The best wood carving tools you can buy
Here are reviews of Dana's favorite carving tools. 
The best wood carving tools should be functional and provide the best value for your hard-earned money.  
I've put together a list of our very favorite tools that I reach for consistently. 
Of course, personal preference for your blade and knife handle size also play a big role in choosing tools that work well for you.
Sometimes it takes a little trial and error to find wood carving tools you will want to use over and over.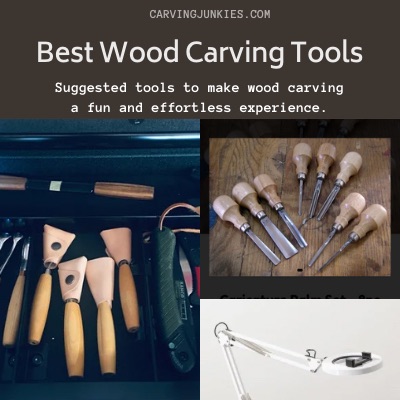 What I will cover here includes (click on link to jump to each section):
Best wood carving tools: Roughout knives
Focuser Carving Whittling Knife
I received this wood whittling knife to review from Focuser Carving and absolutely love it.  It reminds me of a Mora knife but it's so much lighter, has a long blade, and makes it super easy to hog off (remove) wood without having to work so hard.  This one is definitely a keeper! 
You can purchase the FC015 knife directly here (affiliate link).  Focuser Carving knives are (at the time I wrote this) readily available.  This is a real plus as many of the other knives I use and love are out of stock these days.  The handles are no frills and lightweight.  
I only recommend products that I love and use.  However, if you buy any of the Focuser Carving knives using the affiliate links on this page you will also be supporting this website.  Thank you! 
---
Focuser Carving Pelican Knife
This is a pelican knife I received to review that is also great for removing wood quickly and efficiently.  The point is narrowed for tight turns.  I'm still learning the best ways to use it because of the unique shape.  So far I like it for roughing out wood. 
You can purchase the FC003 directly here (affiliate link). 
---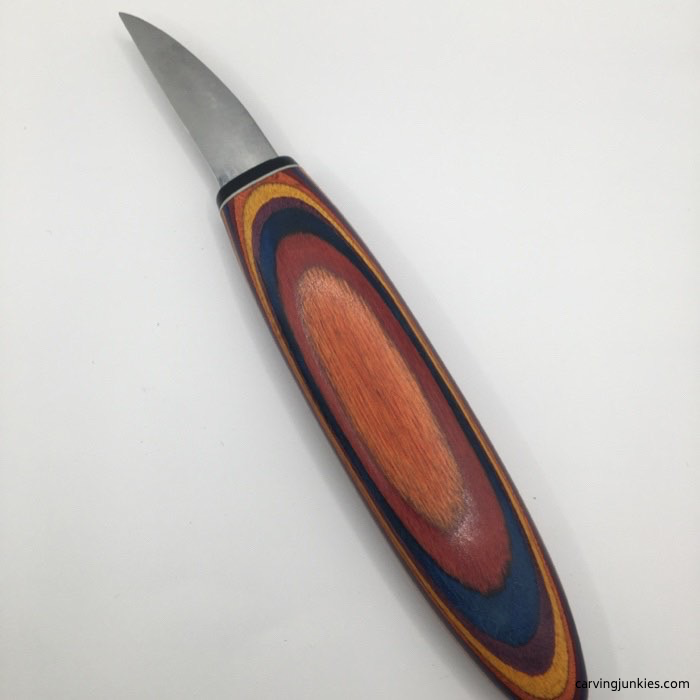 The Helvie Hogger
The Helvie Hogger is a true workhorse when it comes to removing wood.  I have very small hands, but it is very comfortable to use, despite the large handle.  

There is typically a long wait list for ordering Helvie knives but they are really worth the wait.  eBay is another option but you will pay 4 times as much or even more. 
---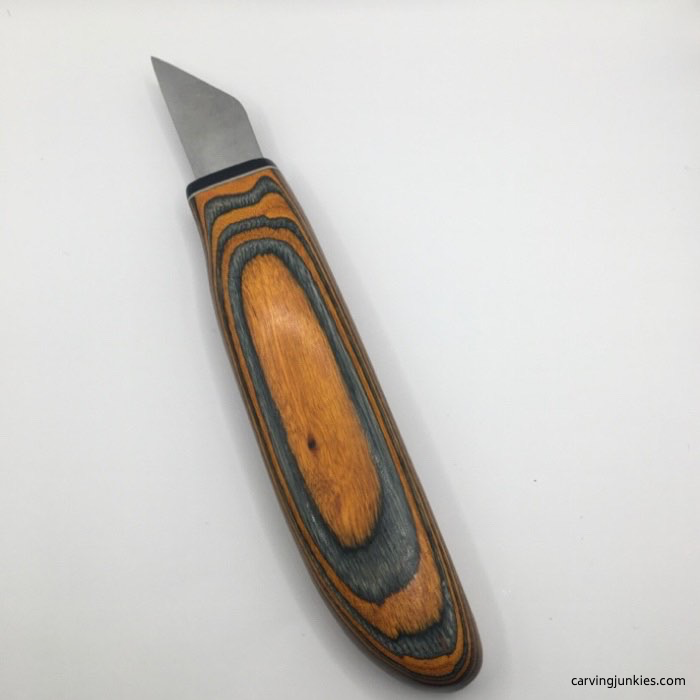 Helvie Boxcutter
The Helvie boxcutter is another favorite knife among this best wood carving tools list.  It is great for removing wood and is surprisingly versatile for carving details.  
Watch the tip, however.  If you tend to be a tip scooper (so bad for knives but so common), you will run the risk of breaking it. 
---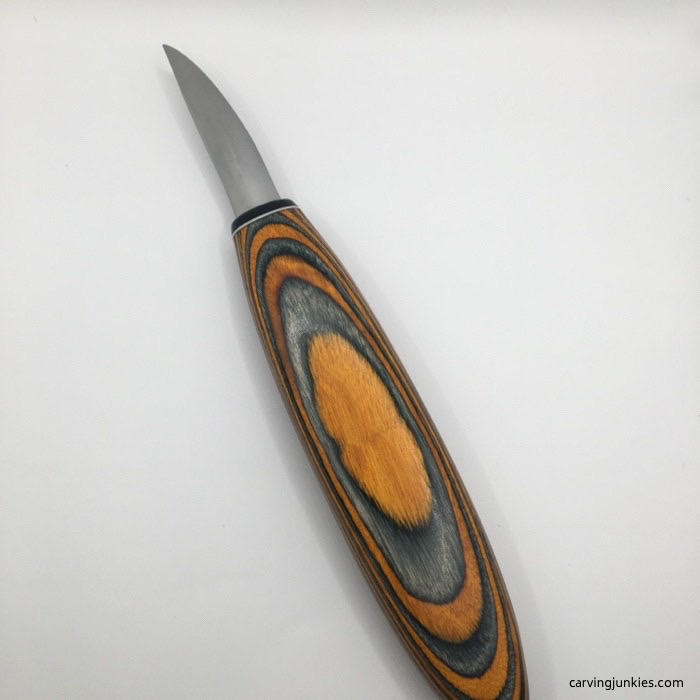 Helvie Roughout
The Helvie roughout knife is another keeper for removing large areas of wood.  
---
Best wood carving tools: Chip (or pyramid) carving knife 
Focuser Carving Chip Carving Knife
All I can say is "wow, wow, wow" about the Focuser Carving chip carving knife I received to review.  I actually do not do traditional chip carving, but I do make a lot of pyramid cuts for carving noses and adding shadow.  
What a difference it makes to get nice, clean cuts!  It is a super sturdy knife too.  
This knife is definitely the one I now reach for whenever a pyramid cut is required.  You can purchase the FC016 knife directly here (affiliate link).  
---
Best wood carving tools: General carving knives
Focuser Carving Wood Carving Knife
I tend to be rough on my knives, which is why I really like this sturdy FC001 Focuser Carving wood carving knife.  This is the one I reach for when I'm afraid I might break a tip.  I also like it for removing additional wood once I've  roughed out a piece.  
You can buy the FC001 wood carving knife directly here (affiliate link).
---
Best wood carving tools: Detail knives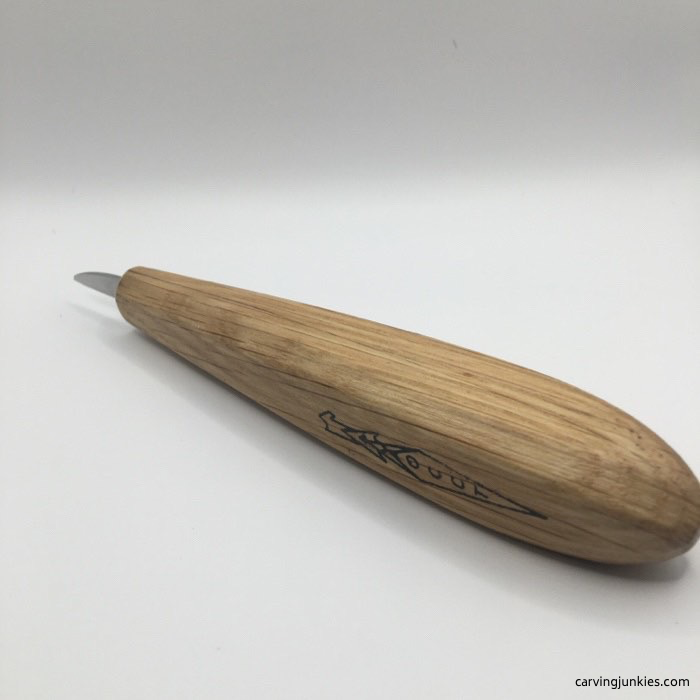 OCCT Tools detail knife
This OCC Tools detail knife may be little, but it delivers big results when you need to carve small details. The blade is a half inch.
---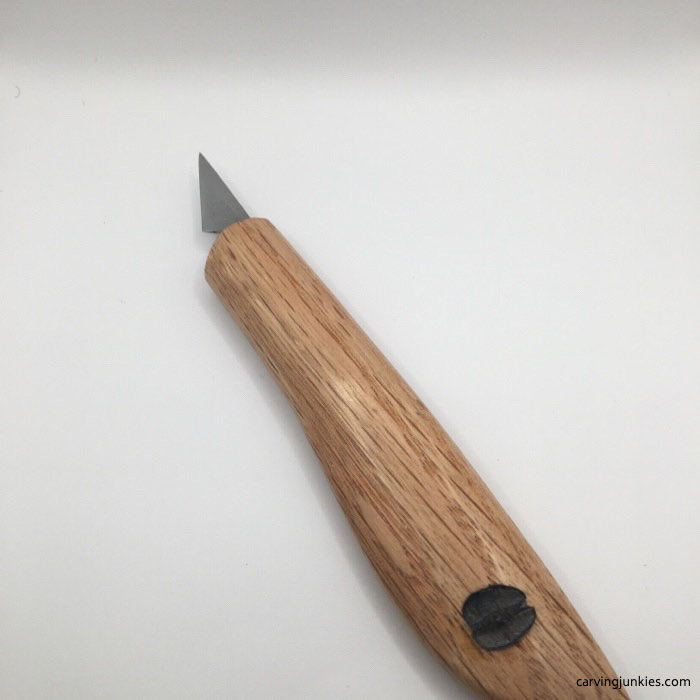 Upswept detail knife
The upswept detail knife from Deepwoods Ventures is one sturdy knife.  
It has kind of a chisel-like edge and I'm still learning the many different ways it performs.  
---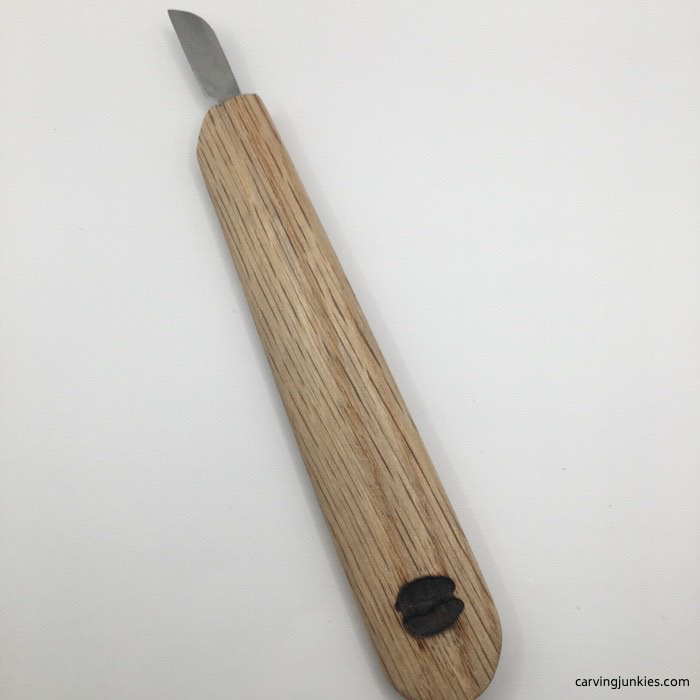 Deepwoods Ventures scalpel
The scalpel (1 inch straight) from Deepwoods Ventures is an amazing and sturdy detail knife.
---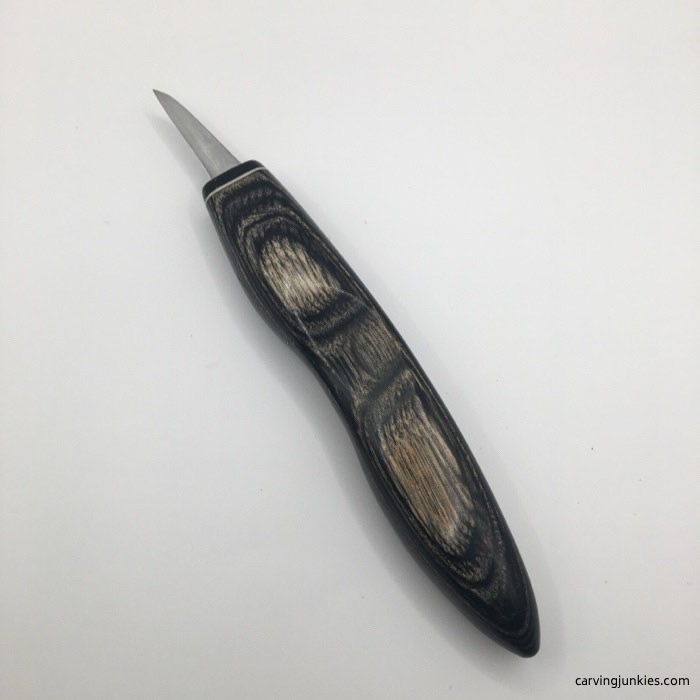 Helvie detail knife
My best wood carving tools list wouldn't be complete without a Helvie detail knife.  I am a big fan of anything Helvie.
---
Best wood carving tools: Flat plane carving knives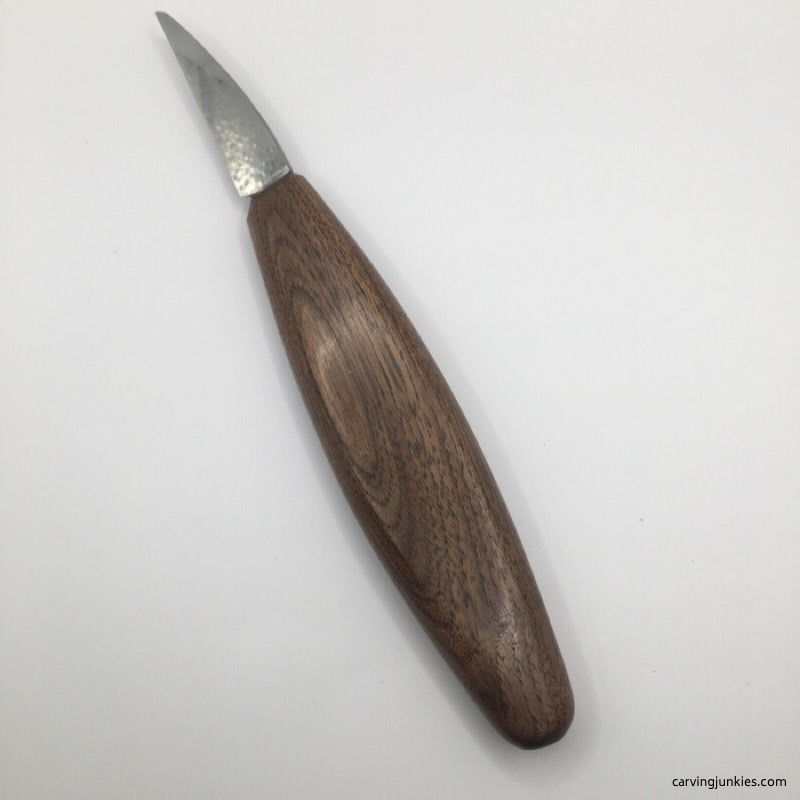 Harley knife
The Harley knife from Pinewood Forge is wonderful for flat plane carving.  Ours is 2 inches long. 
It is definitely one of the best wood carving tools to own. 
---
Larger OCC Tools straight knife
OCC Tools makes several straight knives that are great for flat plane carving.  They also help prevent wood from crumbling on smaller basswood blocks. This one has a 1 7/8-inch blade.  I use it often on small caricature faces.  
---
Smaller OCC Tools straight knife
The smaller version of the OCC Tools straight knife  (1 1/4-inch blade) is also excellent for flat plane carving and little figures.
---
Best wood carving tools: Eye-carving knives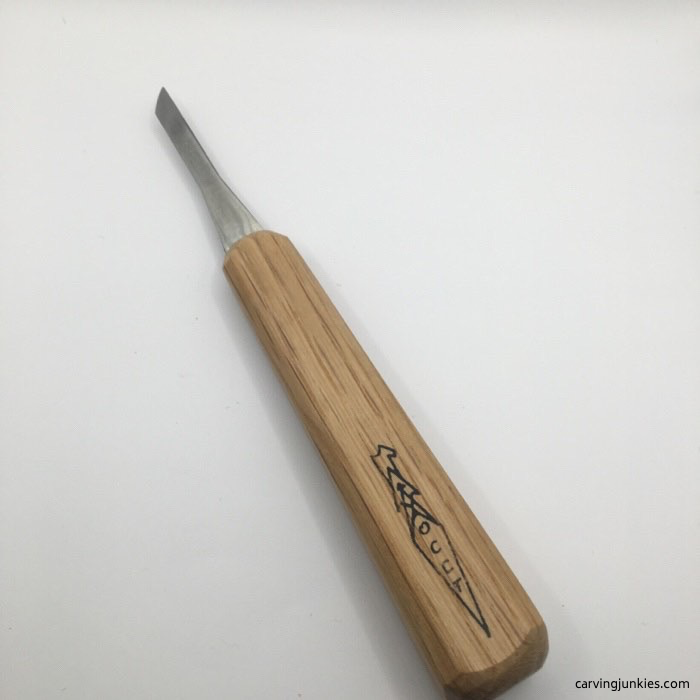 OCC Tools eye detail knife
This eye detail  knife from OCC Tools is specially made to carve eyes.  The shape is advantageous for fine detail work.
---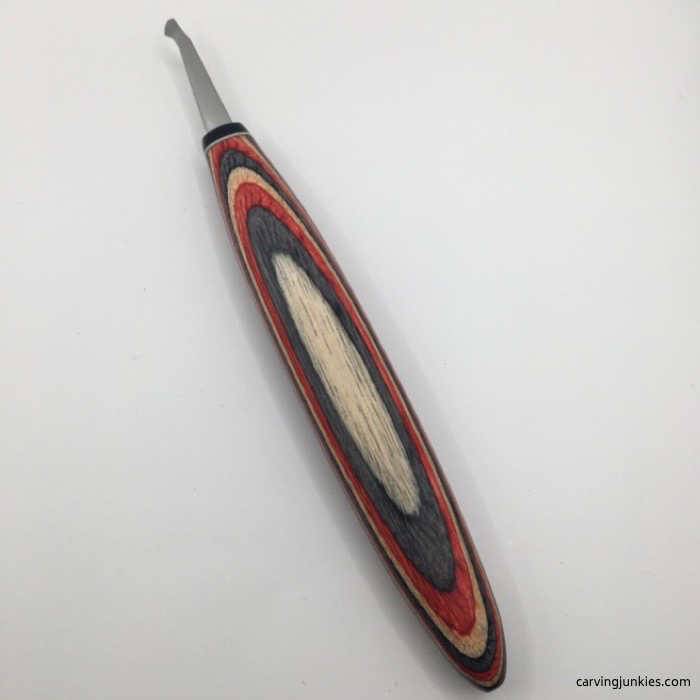 Helvie broad axe
The Helvie broad axe is another option for wood carving eyes for caricatures. Mine is the medium size axe.
---
Best wood carving knives: Knives to clean up cuts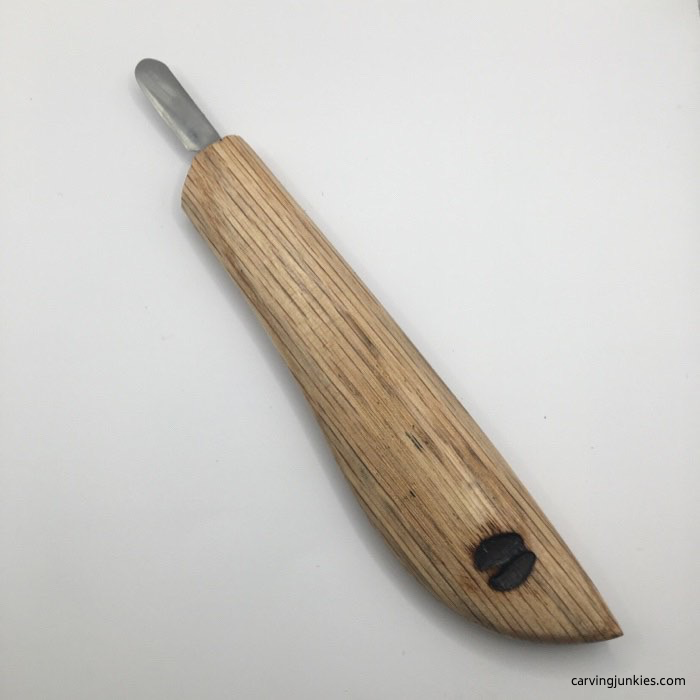 Deepwoods Ventures butter knife
This butter knife from Deepwoods Ventures is indispensable for deepening and cleaning up cuts.  There are two sizes (1-inch and 1 3/4-inch).  The smaller size (1 inch) is perfect for the type of carvings we design.  
---
Best wood carving tools: Pocket knives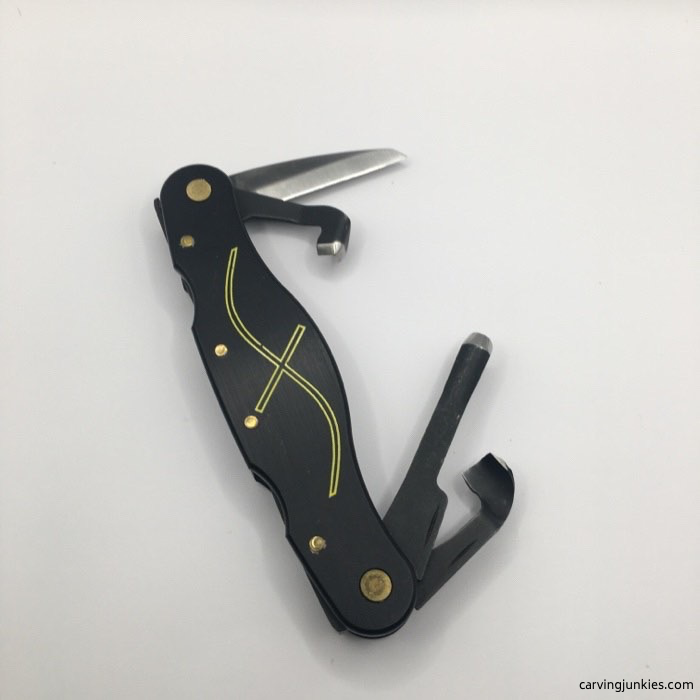 Pocket Jack from Flexcut
The Flexcut Pocket Jack is perfect to throw into a backpack for the weekend.  It keeps a nice edge and has several gouges.  Another plus is that it locks into place.  
I saved a few bucks on shipping by getting my Flexcut Pocket Jack (affiliate link) on Amazon (be sure it is from Flexcut directly).
---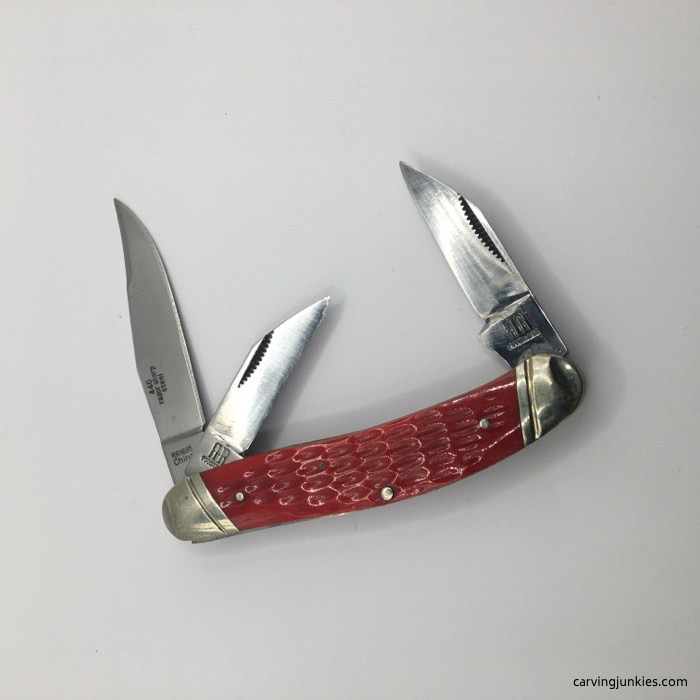 Red Rider pocket knife
This Red Rider pocket knife is favored by Arlene at carverswoodshop (she's on YouTube).  She reworks the blades for you when you order one.  
It does not lock into place, however, so you have to be careful. 
---
Best wood carving tools: Gouges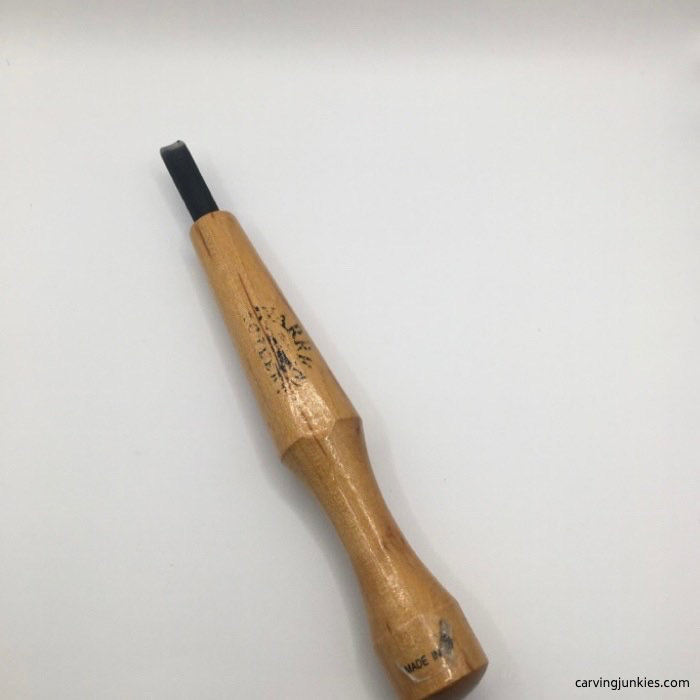 Laminated U gouge
Most of my tutorials are just done with a knife or two.  But one of the very best woodcarving tools to have in your kit is this laminated U gouge from Warren Cutlery.  It is terrific for carving eyes, buttons, and other circles.  Very versatile. 
---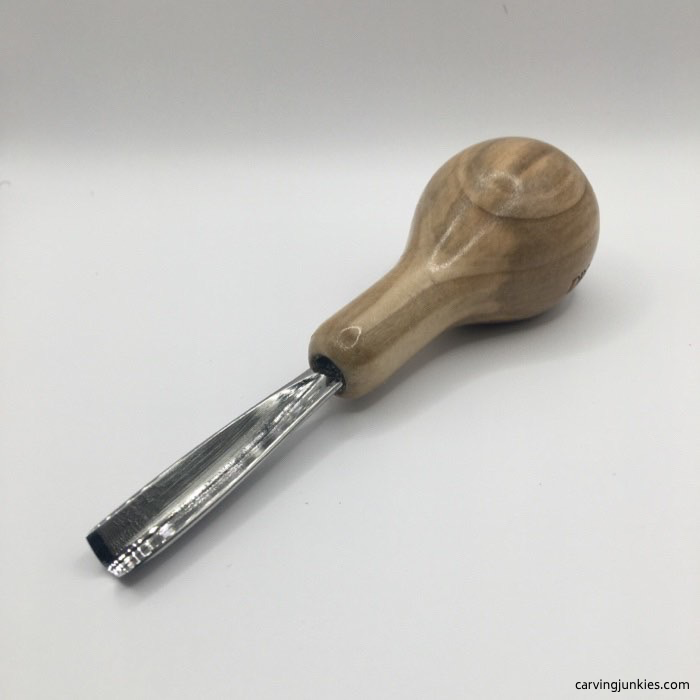 Soft V-tool
This soft V-tool from Drake is wonderful for carving hair, beards, and other designs.  It cuts like butter! 
I got mine from Greg Dorance Co.
---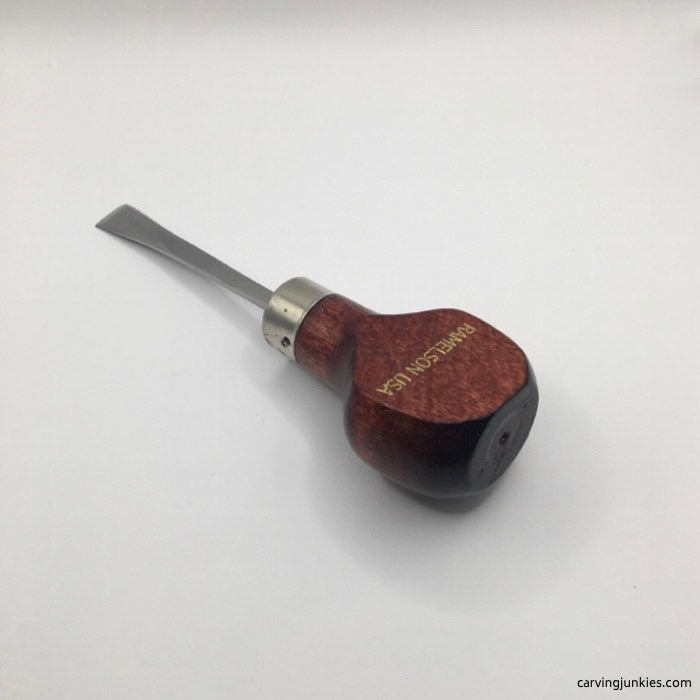 Ramelson fishtail gouge
This Ramelson fishtail gouge is great for splitting legs or roughing out.  Helps save a little wear and tear on your knives and hands.  
---
Best wood carving tools: Spoon carving knives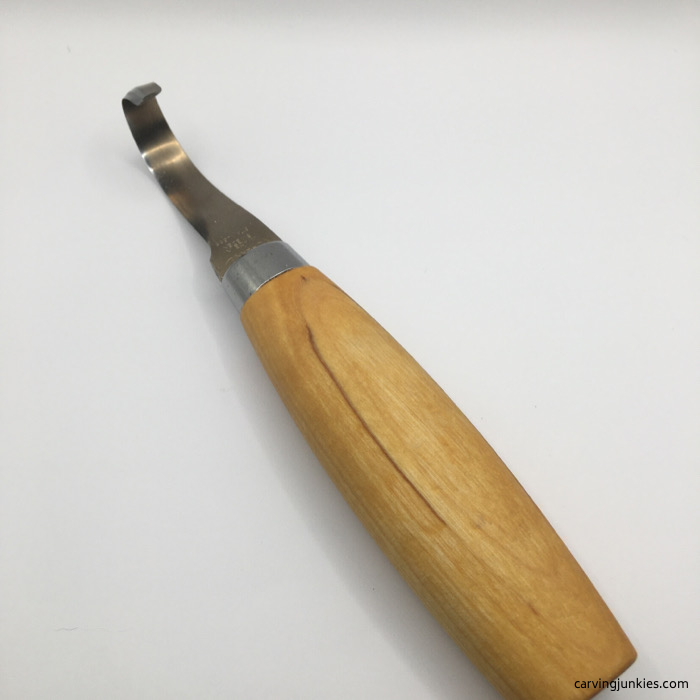 Mora spoon carving knife
Mora makes wonderful spoon knives (both for left and right handed carvers) and it is great to have one in your toolbox.  Comes in handy when you need to scoop some wood out. 
You can get them on Amazon (affiliate link).
---
The best gloves for wood carving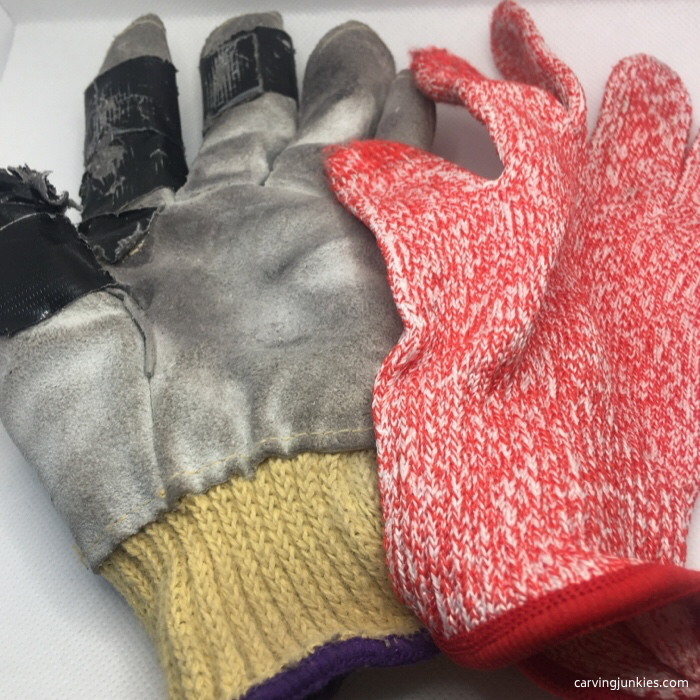 How to get the best gloves for wood carving
Learn how one simple hack can turn good carving gloves into the best gloves for wood carving. 
---
Best wood carving tools: Other accessories
All links below are Amazon affiliate links.  We receive a small commission if you buy them, which helps support our website (without any cost to you).  Thanks! 
Very best wood burner kit
I upgraded my wood burning pen to the Colwood detailer kit and what a huge difference!  With the cheaper pen I could never get an even burn line.  And it just didn't have much fire power.  The Colwood wood burner got so hot so fast I had to keep it on a lower setting.  It comes with 3 nibs and they were so much fun to use.  If you want to elevate your wood burning, this kit is well worth it.  Plus, the bundle package comes with an awesome educational book.  You can get your kit here with our Amazon affiliate link. Thanks for your support! 
---
Mobile wood carving center
We own this Husky tool chest (affiliate link) as well as a smaller one from Waterloo.  Each serves a purpose, but the Husky is definitely made with much higher quality.  The bottom drawers are super deep to hold all kinds of tools and vises.  
Plus, the Husky one is close to $100 less.  You can roll it next to you whenever you are carving from your sofa (or recliner).  Then, push it away when you are finished.  If you take pictures, it also makes a great table top studio.  
---
Super-flexible vise
I looked at a number of vises before settling on this Panavise (affiliate link).  It can be bolted down to a work bench.  It also fits quite sturdily into the wooden vegetable bin that we use as our portable "lapshop."  
What's great is the ability to turn it any which way in a circle, or up and down.  It gives you lots options to help you carve at the perfect angle.   It is a must for safety if you use gouges.
---
See everything easily
This wonderful LED magnifying lamp (affiliate link) also fits into my portable lapshop.  Plus it comes apart to store it away at the end of your carving session.  
---
Best acrylic paints
I used to think all acrylic paints are alike.  But they're not!  This set of Delta Creative Ceramcoat paints (affiliate link) makes is super easy to blend colors and create desirable shadows. 
---
Best painting brushes
These inexpensive Princeton brushes (affiliate link) have become my favorites.  They feel great and work even better. 
These Transon flat brushes (affiliate link) come in an economical set with 7 brushes of all sizes.  They are great for getting into tight spaces, blending colors, and for creating shadows.  
---
While I am big on making my own strops, this one from Flexcut (affiliate link) is great for sharpening gouges and V-tools. 
---
Self-grip tape (affiliate link) is wonderful to extend the life of a carving glove, or to protect fingers on your noncarving hand.  
---
Cut off a nose, ear, or foot?  No problem.  A little wood glue (affiliate link) patches things up pretty quick.  Just be sure to wipe it off well (or carve off the excess) as paint will not adhere. 
---
These old-time school erasers (affiliate link) are great to have on hand when you are sketching designs on wood and need to rework them.  
If you want to play around with movable parts on your carvings, these refrigerator magnets (affiliate link) are small, yet powerful!  Plus they come in 3 different sizes… and I'm  all about having options.  
The best wood carving books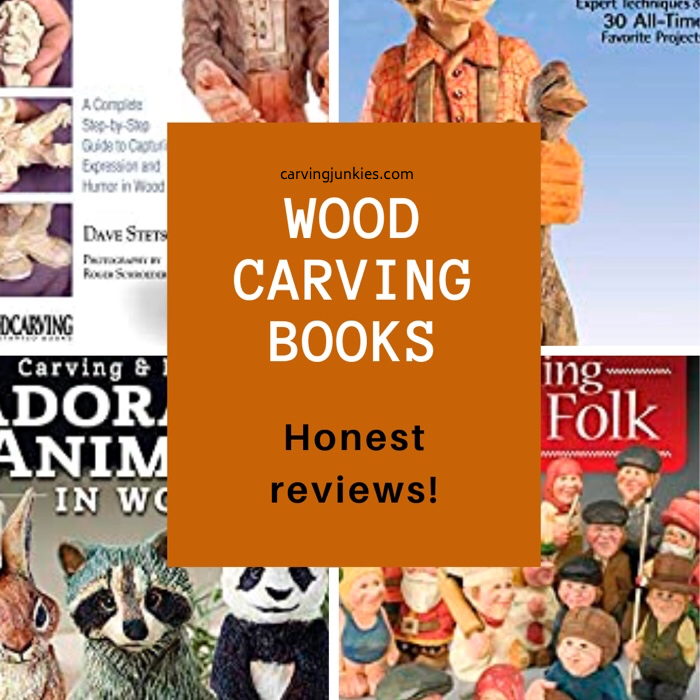 Learn before you buy
Check out my honest reviews of wood carving books so you can get the most bang from your buck!
Some terrific knives I love!
The knives pictured below are easy to use and hold an edge extremely well. They are also very sturdy, which is awesome for beginner wood carvers. The FC001 is a great all-around carving knife. The FC016 is my go-to for making clean pyramid cuts with ease.  I use the FC015 when I need to remove a lot of wood without too much effort. Lots of great wood carvers on Instagram use them. They are also readily available, which is a plus these days. Check 'em out! Every purchase you make via these affiliate links helps support this website. Thank you! 😀
WANT TO HELP SUPPORT US?
Get 50 Wood Carving & Painting Tips  
FREE when you join our free Covered in Chips Club
Your information is 100% private and is never shared. Unsubscribe anytime. See our  Privacy Policy .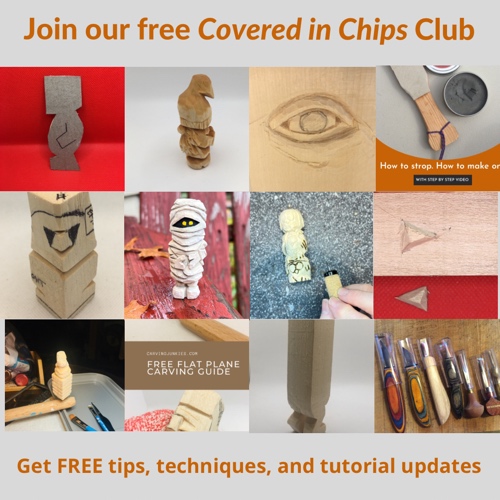 Home   | Privacy Policy  | Terms of Use  | Contact| Sitemap