The best wood carving tools you can buy
Here are reviews of our favorite carving tools. 
The best wood carving tools should be functional and provide the best value for your hard-earned money.  
We've put together a list of our very favorite tools that we reach for consistently. 
Of course, personal preference for your blade and knife handle size also play a big role in choosing tools that work well for you.
Sometimes it takes a little trial and error to find wood carving tools you will want to use over and over.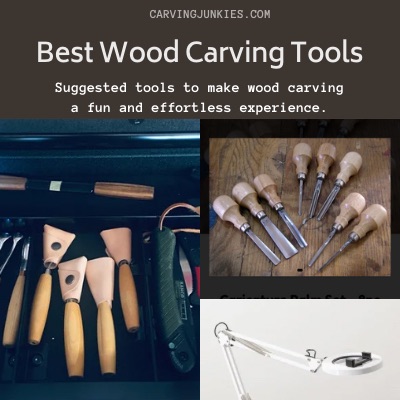 What we will cover here includes (click on link to jump to each section):
Best wood carving tools: Roughout knives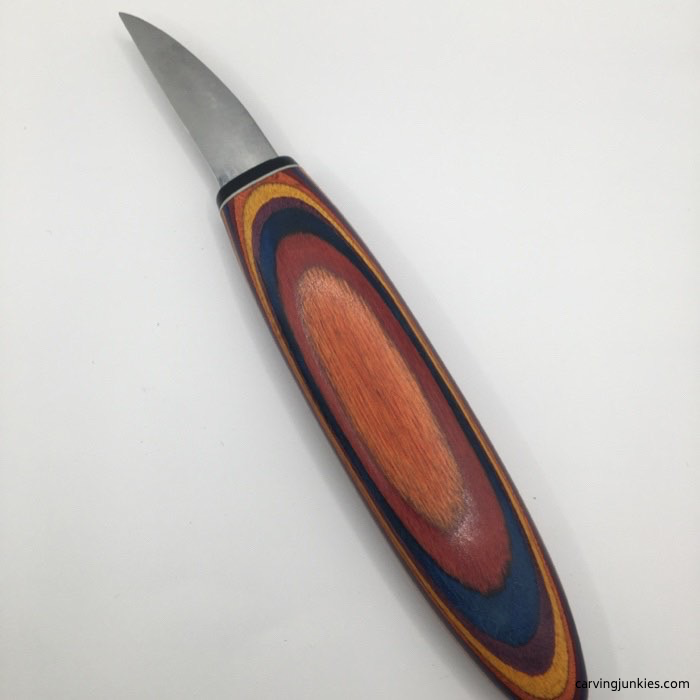 The Helvie Hogger
The Helvie Hogger is a true workhorse when it comes to removing wood.  I (Dana) have very small hands, but it is very comfortable to use, despite the large handle.  

There is typically a long wait list for ordering Helvie knives but they are really worth the wait.  eBay is another option but you will pay 4 times as much or even more.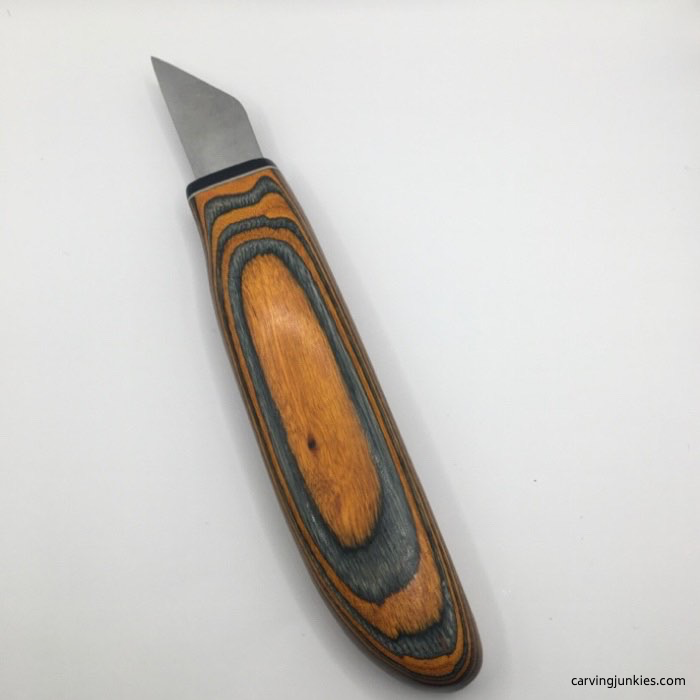 Helvie Boxcutter
The Helvie boxcutter is another favorite knife among our best wood carving tools list.  It is great for removing wood and is surprisingly versatile for carving details.  
Watch the tip, however.  If you tend to be a tip scooper (so bad for knives but so common), you will run the risk of breaking it.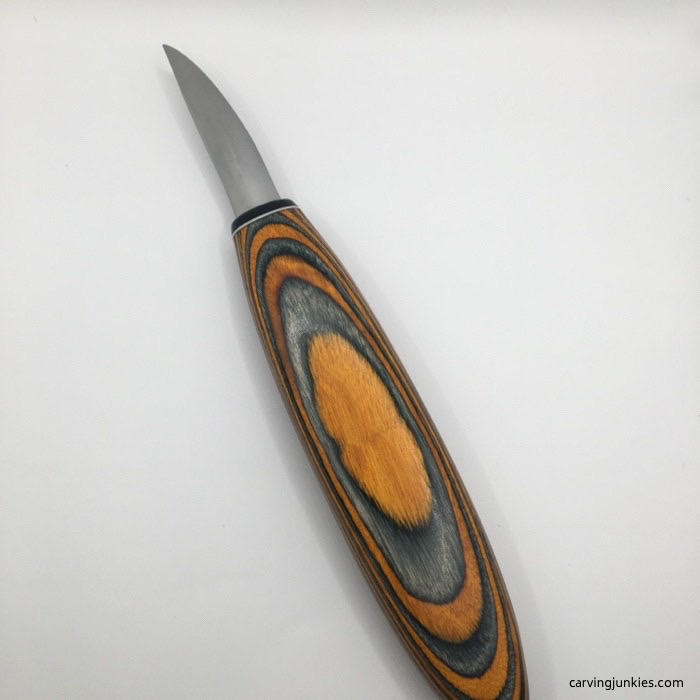 Helvie Roughout
The Helvie roughout knife is another keeper for removing large areas of wood.  
---
Best wood carving tools: Detail knives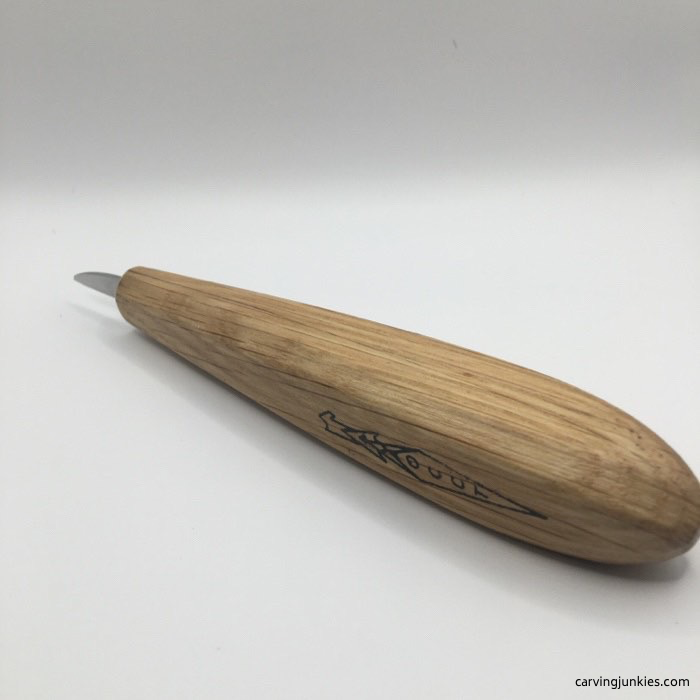 OCCT Tools detail knife
This OCC Tools detail knife may be little, but it delivers big results when you need to carve small details. The blade is a half inch.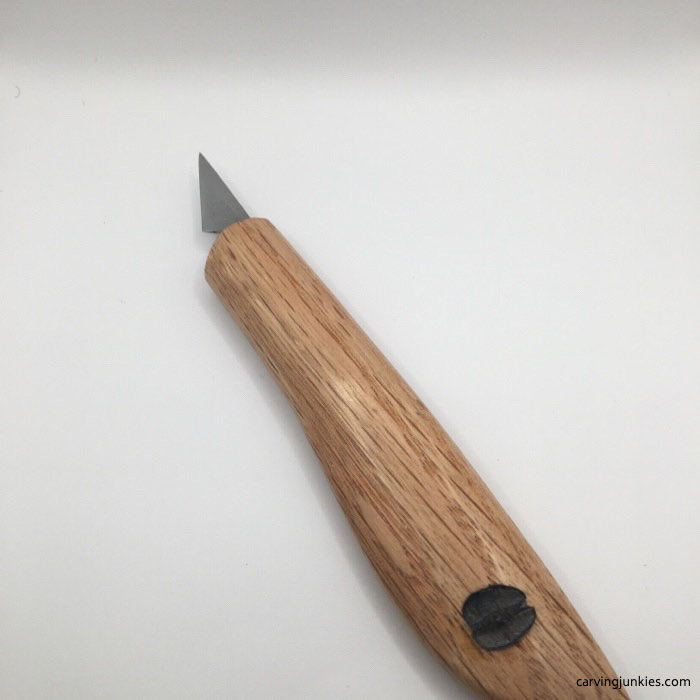 Upswept detail knife
The upswept detail knife from Deepwoods Ventures is one sturdy knife.  
It has kind of a chisel-like edge and we're still learning the many different ways it performs.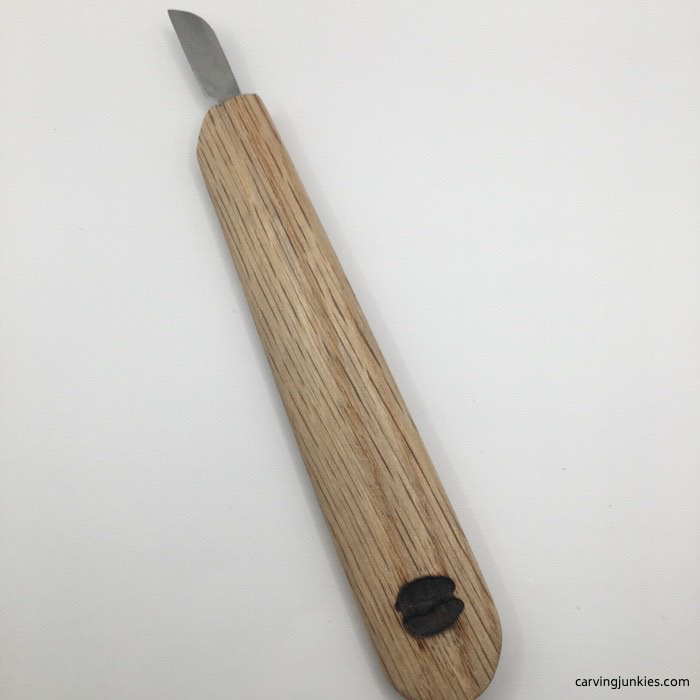 Deepwoods Ventures scalpel
The scalpel (1 inch straight) from Deepwoods Ventures is an amazing and sturdy detail knife.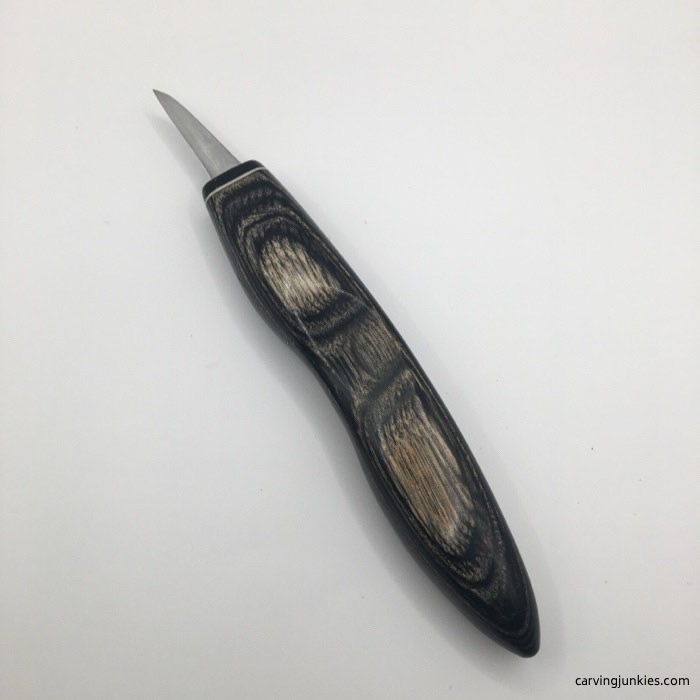 Helvie detail knife
Our best wood carving tools list wouldn't be complete without a Helvie detail knife.  We are big fans of anything Helvie.
---
Best wood carving tools: Flat plane carving knives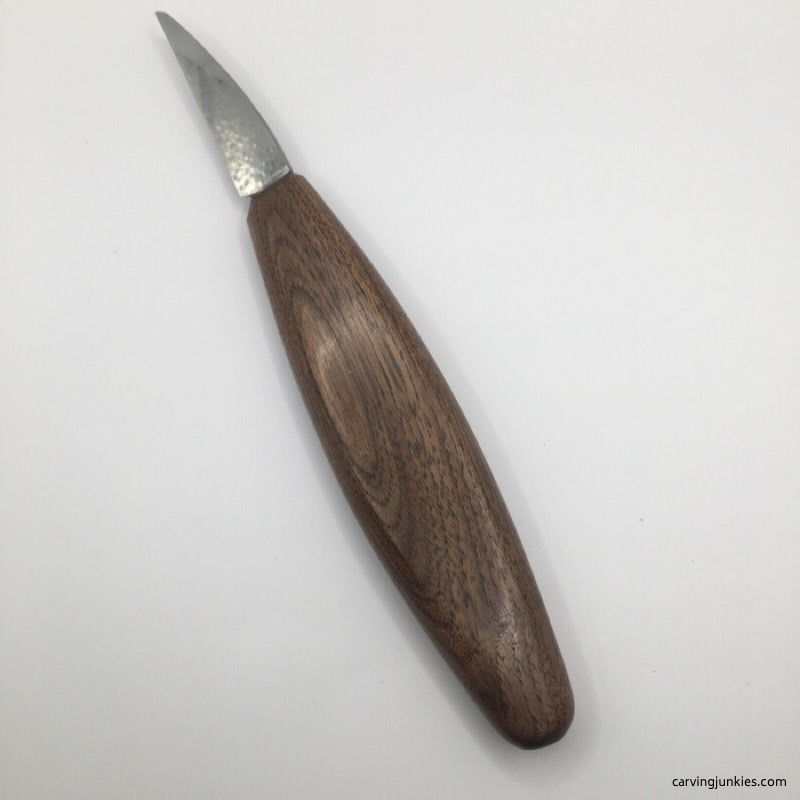 Harley knife
The Harley knife from Pinewood Forge is wonderful for flat plane carving.  Ours is 2 inches long. 
It is definitely one of the best wood carving tools to own. 
Larger OCC Tools straight knife
OCC Tools makes several straight knives that are great for flat plane carving.  They also help prevent wood from crumbling on smaller basswood blocks. This one has a 1 7/8-inch blade.
Smaller OCC Tools straight knife
The smaller version of the OCC Tools straight knife  (1 1/4-inch blade) is also excellent for flat plane carving and little figures.
---
Best wood carving tools: Eye-carving knives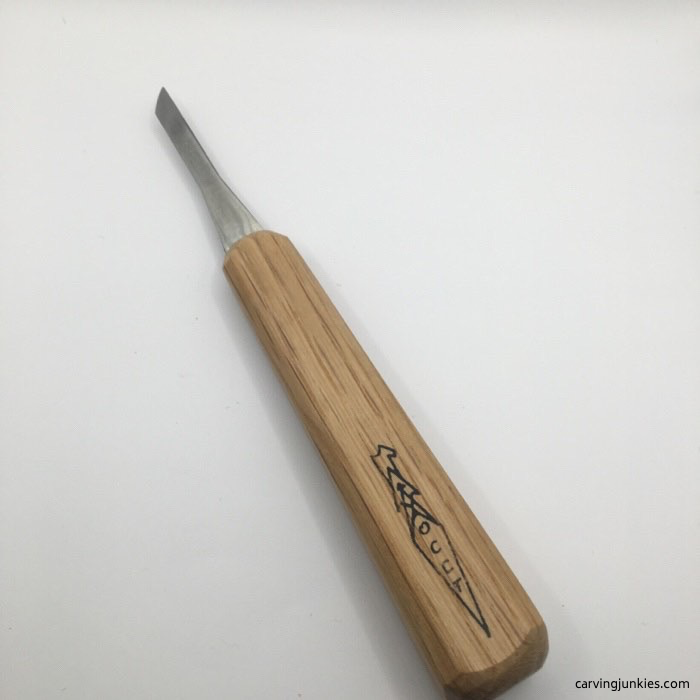 OCC Tools eye detail knife
This eye detail  knife from OCC Tools is specially made to carve eyes.  The shape is advantageous for fine detail work.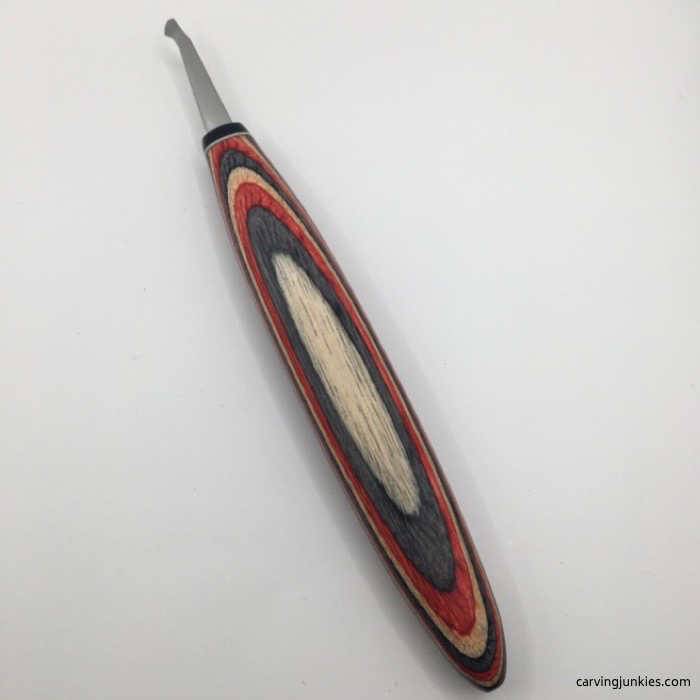 Helvie broad axe
The Helvie broad axe is another option for wood carving eyes for caricatures. Ours is the medium size axe.
---
Best wood carving knives: Knives to clean up cuts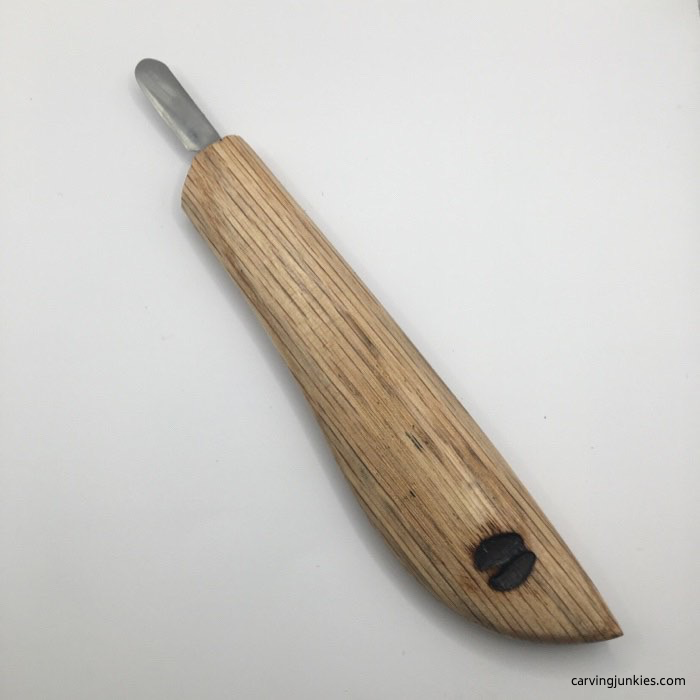 Deepwoods Ventures butter knife
This butter knife from Deepwoods Ventures is indispensable for deepening and cleaning up cuts.  There are two sizes (1-inch and 1 3/4-inch).  The smaller size (1 inch) is perfect for the type of carvings we design.  
---
Best wood carving tools: Pocket knives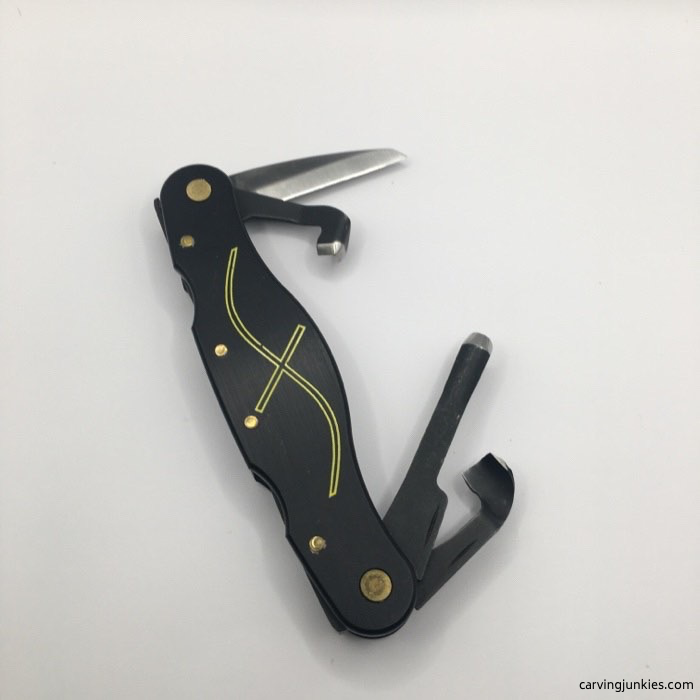 Pocket Jack from Flexcut
The Flexcut Pocket Jack is perfect to throw into a backpack for the weekend.  It keeps a nice edge and has several gouges.  Another plus is that it locks into place.  
We saved a few bucks on shipping by getting our Flexcut Pocket Jack (contains affiliate link) on Amazon (be sure it is from Flexcut directly).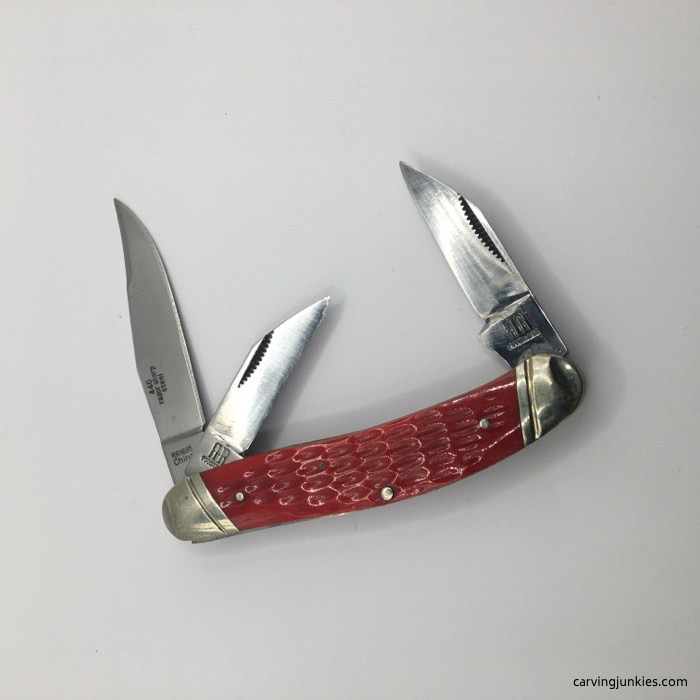 Red Rider pocket knife
This Red Rider pocket knife is favored by Arlene at carverswoodshop (she's on YouTube).  She reworks the blades for you when you order one.  
It does not lock into place, however, so you have to be careful. 
---
Best wood carving tools: Gouges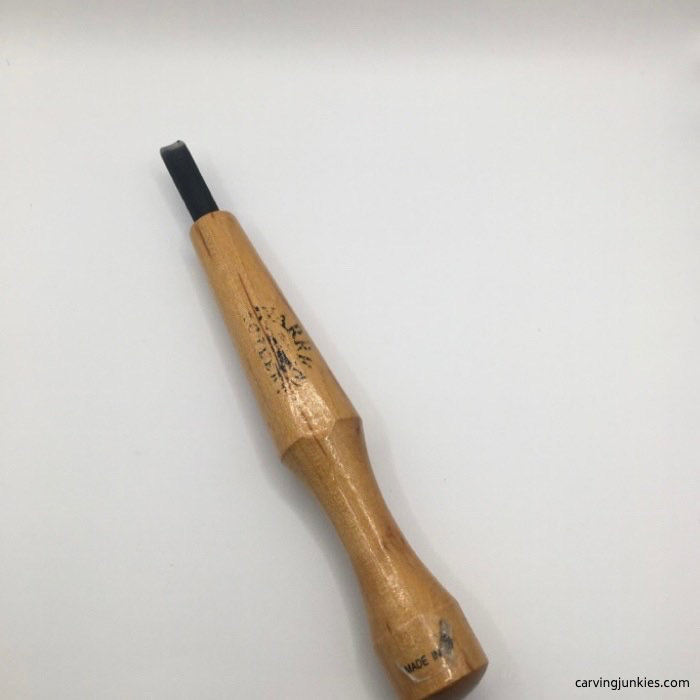 Laminated U gouge
Most of our tutorials are just done with a knife or two.  But one of the very best woodcarving tools to have in your kit is this laminated U gouge from Warren Cutlery.  It is terrific for carving eyes, buttons, and other circles.  Very versatile.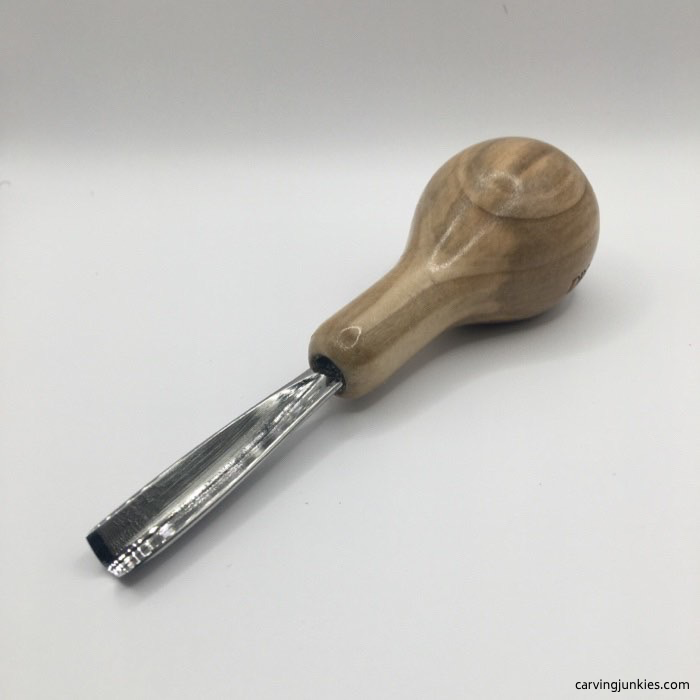 Soft V-tool
This soft V-tool from Drake is wonderful for carving hair, beards, and other designs.  It cuts like butter! 
We got ours from Greg Dorance Co.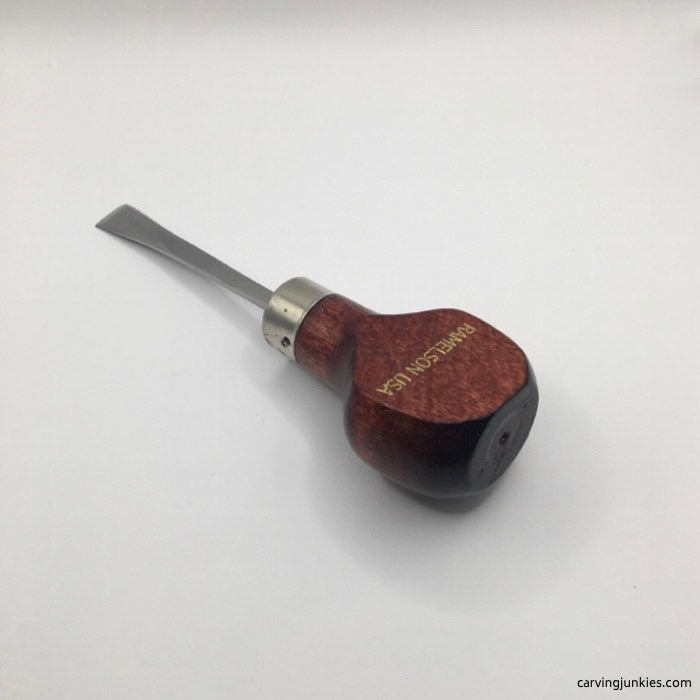 Ramelson fishtail gouge
This Ramelson fishtail gouge is great for splitting legs or roughing out.  Helps save a little wear and tear on your knives and hands.  
We got ours on Amazon (contains affiliate link).
---
Best wood carving tools: Spoon carving knives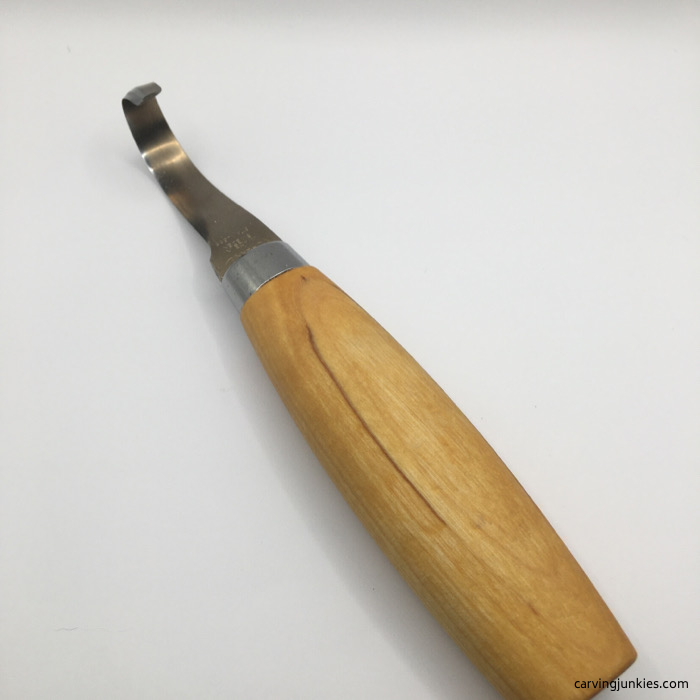 Mora spoon carving knife
Mora makes wonderful spoon knives (both for left and right handed carvers) and it is great to have one in your toolbox.  Comes in handy when you need to scoop some wood out. 
You can get them on Amazon (contains affiliate link).
---
The best gloves for wood carving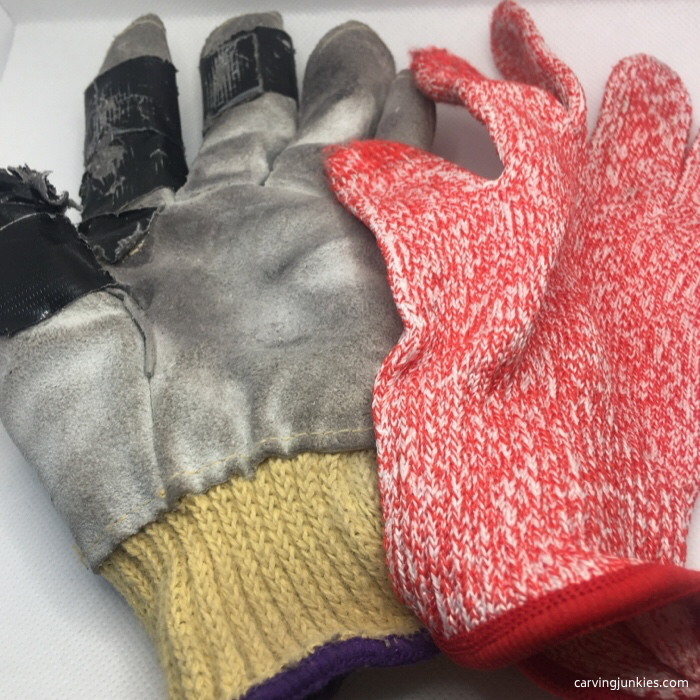 How to get the best gloves for wood carving
Learn how one simple hack can turn good carving gloves into the best gloves for wood carving. 
---
Best wood carving tools: Other accessories
All links below are Amazon affiliate links.  We receive a small commission if you buy them, which helps support our website (without any cost to you).  Thanks! 
We own this Husky tool chest as well as a smaller one from Waterloo.  Each serves a purpose, but the Husky is definitely made with much higher quality.  
Plus, the Husky one is close to $100 less.
We looked at a number of vises before settling on this Panavise.  It can be bolted down to a work bench.  It also fits quite sturdily into the wooden vegetable bin that we use as our portable "lapshop."  
What's great is the ability to turn it any which way in a circle, or up and down.  It gives you lots options to help you carve at the perfect angle.   It is a must for safety if you use gouges.
This wonderful LED magnifying lamp also fits into our portable lapshop.  Plus it comes apart to store it away at the end of your carving session.  
This Walnut Hollow woodburning tool has 11 tips and provides temperature control.  It is easy to use, not super expensive, and gets the job done.  We pair it with an Elenco soldering iron holder so you won't burn your table or your lap!  
We used to think all acrylic paints are alike.  But they're not!  This set of Delta Creative Ceramcoat paints makes is super easy to blend colors and create desirable shadows. 
These Transon flat brushes come in an economical set with 7 brushes of all sizes.  They are great for getting into tight spaces, blending colors, and for creating shadows.  
While we are big on making our own strops, this one from Flexcut is great for sharpening gouges and V-tools. 
Self-grip tape is wonderful to extend the life of a carving glove, or to protect fingers on your noncarving hand.  
Cut off a nose, ear, or foot?  No problem.  A little wood glue patches things up pretty quick.  Just be sure to wipe it off well (or carve off the excess) as paint will not adhere. 
These old-time school erasers are great to have on hand when you are sketching designs on wood and need to rework them.  
If you want to play around with movable parts on your carvings, these refrigerator magnets are small, yet powerful!  Plus they come in 3 different sizes… and we're all about having options.  
The best wood carving books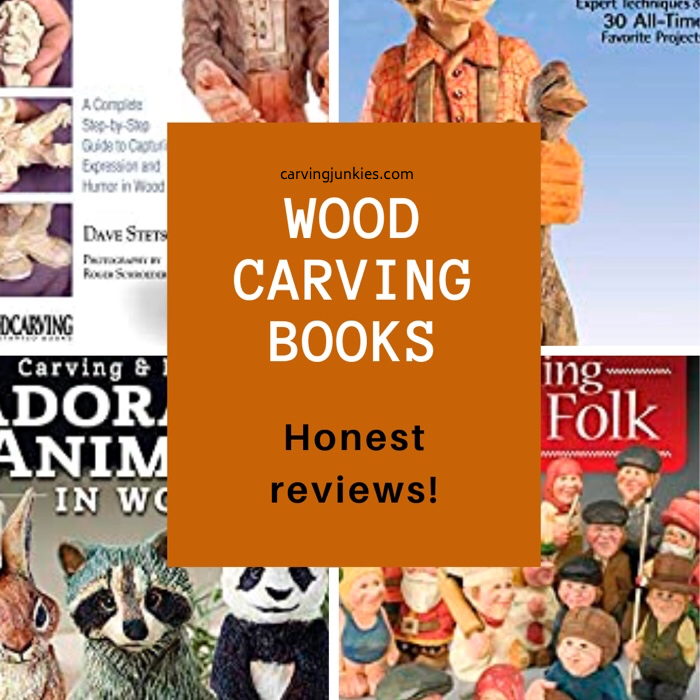 Learn before you buy
Check out our honest reviews of wood carving books so you can get the most bang from your buck!
Get 50 Wood Carving & Painting Tips  
FREE when you sign up for Covered in Chips, our newsletter
Your information is 100% private and is never shared. Unsubscribe anytime. See our  Privacy Policy .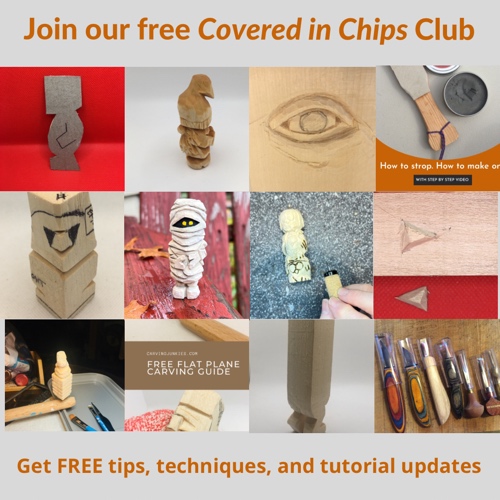 Home   | Privacy Policy  | Terms of Use  | Contact| Sitemap