18 wood carving books with honest reviews
So you can determine to spend (or save) your money. 
(Book images include affiliate links)
Looking for great wood carving books? We know how disappointing it is to spend your hard-earned money on books that do not live up to their hype.
Before you buy, read the pros and cons of these popular book wood carving books.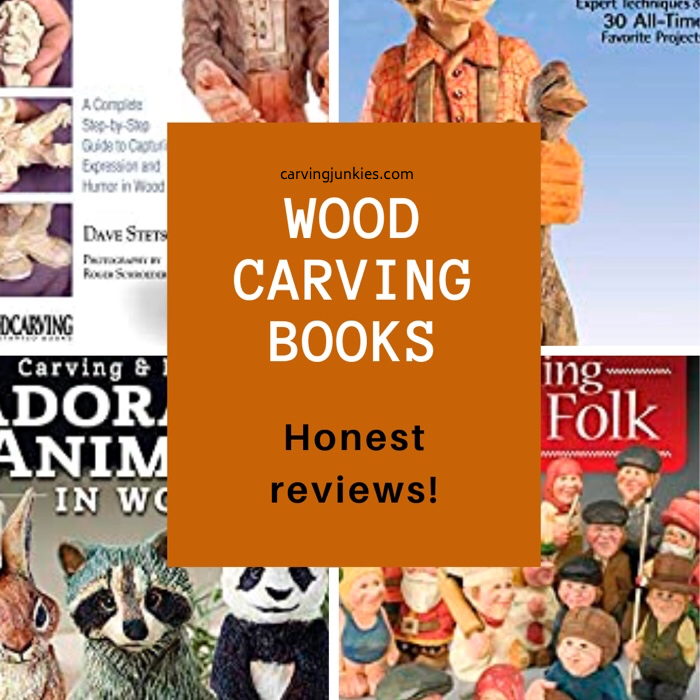 Caricature wood carving books
Thinking Inside the Roughout (Caricature Carvers of America)
If you're looking to create your own caricature carving designs, this book is a wonderful resource. 
Twenty-eight renowned caricature carvers each received the same roughout and you will be amazed at what they did with them. 
There are also a lot of great tips (you have to dig into the book to get them). While this book does not teach you how to recreate these wood carvings, you can still learn a lot from the clear pictures. 
If you want to be inspired to leap into designing your own caricatures, this is one of the wood carving books to add to your bookshelf.
---
Caricatures in Motion (Caricature Carvers of America)
This book shows you how far skilled caricature carvers can push wood to incorporate movement. 
It shares a bit about each carver's mental process as well. 
Some great tips are sprinkled throughout but it is definitely not a how-to-carve book. 
However, it is a terrific resource for carvers who want to add movement to the projects they design. It is inspirational versus instructional.
---
Carving Caricature Heads & Faces. 33 Caricatures With Step-by-Step Carving Instructions  (W. "Pete" LeClair)
LeClair does a great job of explaining his step-by-step process for creating one of his wonderful caricature faces that can be used (on top of cork) as bottle stoppers. 
His process includes the use of a band saw. You will also need some tools besides a carving knife. 
Like so many wood carving books, you only get one comprehensive step-by-step tutorial. There are also single photos of the 32 other caricature heads without instructions for carving. 
However, LeClair's guidance on how to carve and paint eyes is nice if you need help with that.
---
Carving Compact Caricatures. Fun Projects for Basswood Eggs (Skylar Johnson)
This is a good resource if you want to try your hand at carving a basswood egg. It provides step-by-step instructions for carving a Hillbilly Egg. 
You also get photos of 3 final carvings from 4 angles, 3 photos of final carvings from 3 angles, and 8 photos of final carvings from 2 angles. 
The directions are clear and easy to follow. You will need a few tools other than a carving knife. There are also some good tips about carving and painting eyes. 
---
Caricature Carving. Expert Techniques from 30 All-Time Favorite Projects (Woodcarving Illustrated)
This book features 18 caricature figures and 3 caricature animals that fall under the category of "The best of Woodcarving Illustrated." 
It follows the same style the magazine uses in its tutorials. It offers a little something for everyone at different carving levels. 
You may recognize some of the tutorials (Little Hombre from Dave Stetson, Gnome Pirate from Skylar Johnson, A Cowboy Head from Pete LeClair, and an Ozark Character from Mike Shipley, and Mose by Phil Bishop). 
Some of the projects only provide patterns and do not include step-by-step carving instructions. 
---
Caricature Carving From Head to Toe (David Stetson)
This book walks you through Stetson's process for creating his amazing caricatures, which includes starting with a "pinch model" in clay. He's a stickler for anatomical details, and it shows in the level of detail in his work. 
Stetson provides some excellent instruction on facial expressions. The Old Man tutorial he provides is carved in different pieces. You will get patterns for 3 additional projects. 
He provides great instructions on carving different hands. We also liked the section on his painting and antiquing process.
This is one of those wood carving books that is definitely for caricature carvers who want to up their game. While beginners can certainly learn from it, his techniques are more advanced. It also has a nice section on caring for and sharpening knives.
---
Whittling wood carving books
Whittling Little Folks (Harley Refsal)
If you want to know about the history of whittling, this one is for you. 
Refsal provides 2 step-by-step tutorials that are easy to follow and provides finished photos and patterns for another 15+ characters. 
He uses a band saw (but you may be able to adapt without one like we have).  
It is nice that he provides finished photos from all angles. He tends to paint his eyes on (versus carving them). His section on painting little details is also nice. 
---
Bushcraft Whittling (Rick Wiebe)
What a wonderful little book (about 5 x 7 inches and 190 pages) that you can throw into your backpack and enjoy out on the trail (or in your living room). We've read several other bushcraft books and this one is a keeper!  
Wiebe has been a bushcraft whittler for 65 years and his experience really shines through. The book provides lots of photos that are clear and easy to follow.  Wiebe also provides a wealth of tips and techniques.  We loved his conversational tone and no-nonsense advice.  
The topics he covers include: tools of the craft, sharpening, ways of cutting, simple disposable items, treen, walking sticks, canes and crutches, walking sticks with personality, eyes, whittling bushcraft tools, and toys.  

Disclosure: Linden Publishing provided us with an advanced copy of this book for our honest review.
---
Some great knives I use!
I love these very sturdy knives (all Focuser Carving affiliate links). The general carving knife is very comfortable to use. The chip carving knife is my go-to for clean pyramid cuts and more. The long whittling knife is great for roughing out wood. These knives are terrific for beginners, reasonably priced, and readily available. A lot of popular wood carvers on Instagram now use them.  
Flat plane wood carving books
Carving Flat-Plane Style Caricatures. Step-by-Step Instructions & Patterns for 50 Projects. (Harry Refsal)
Some credit Refsal with breathing new life into the old tradition of flat plane carving from Scandinavia. 
Woodcarving Illustrated published this one so the tutorials have the magazine's feel. There are a few nice tips weaved in. 
 It is lacking photos of the other projects (provides black and white patterns only). That makes it fall a little flat compared to other wood carving books.
---
Woodspirit wood carving books
Carving Woodspirits: Beyond the Basics. Step-by-Step Instruction on How to Carve Woodspirits (Susan L. Hendrix and Paul "PJ" Peery)
The tutorial in this book features 122 photos (some large, some small). The quality of the photos is a bit muted. 
What we really liked is the different drawings of eyebrow shapes, the front and side view of the eye, mustaches, hair shapes, and eyebrow hair direction. There is also a good page on facial proportions.
You will need several types of gouges for this woodspirit tutorial. The other patterns are also well drawn.  
It was slightly disappointing that the authors stress the importance of keeping knives sharp without providing any instruction. 
---
Animal wood carving books
Quick & Cute Carving Projects. Patterns for 46 Projects to Carve in One Day (Lorie Dickie)
This is another book if you like carving basswood eggs. It features two tutorials and patterns (and paint keys) for the others. 
It includes animals, fantasy characters, and seasonal holiday ideas. Dickie's style is cute and not realistic. Her painting tends to completely cover the carvings (versus letting the wood show through). She also uses a woodburner and micro carving gouges.  
---
Carving & Painting Adorable Animals in Wood. Techniques, Patterns, and Color Guides for 12 Projects (Desiree Hajny)
Hajny's carvings are gorgeous and her attention to detail in creating fur (she uses a woodburner) is stellar. 
She states up front that this is not a book for beginners. What was a little disappointing is that nearly every pattern featured has the same leg stance. We would have liked more diversity.
She has a nice section on woodburning (including how to fix common mistakes). Hajny also includes a section on painting.  
Christmas wood carving books
---
Carving & Painting Christmas Ornaments. Easy Techniques for 23 Patterns in Wood (Betty Padden)
This is another Woodcarving Illustrated book. The ornaments featured in this book are fun and colorful. 
What we liked best about this book, however, is the instruction of blending and mixing paint colors. 
The majority of the carvings start with using a band saw. And like some of the other wood carving books mentioned, not every ornament comes with detailed carving instructions. You should be able to figure them out unless you are a beginner. 
---
Spoon and cane topper wood carving books
The Art of Spoon Carving. A Classic Craft for the Modern Kitchen (Lora S. Irish)
This is one of those wood carving books that you will want to place on your coffee table. 
Irish is a prolific author and it seems there is no kind of carving she cannot do. This is a substantial book at 156 pages.
She provides a great overview of various spoons and tools you may need. There is also a good section on draw knife rough cutting and scroll saw roughout.  
Irish then provides tutorials for 9 different types of spoons, including project patterns. The projects range from simple to complex.
---
Cane Topper Woodcarving. Projects, Patterns, and Essential Techniques for Custom Canes and Walking Sticks (Lora S. Irish)
This is another one of Irish's detail-packed wood carving books. It does not disappoint.
She covers various wood sources, how to prepare a staff, joinery, joint covers, wrapping basics, bags to make and attach, cane tips, sizing cane toppers, knives and tools, various cuts, and finishing. 
The four step-by-step tutorials are easy to follow. 
---
Wood carving books for kids
Let's Carve: Safe and Fun Woodcarving Projects for Kids (Robin Edward Trudel)
This book does a great job of explaining the importance of safety when teaching young children (ages 4 and up) how to learn to carve. You will find many helpful suggestions, including how to use non-knife tools (such as rasps and files).
Trudel's love for children, and keeping them safe while wood carving, comes across very strongly. We have to admit it felt slightly odd to start the projects sections with personal items (we're not sure how excited a little one will be about carving a comb).
The other sections, however, provide more whimsical toys, dolls, puppets, and stick animals (note that some assembly may be required).  We also liked that each project offers both basic and advanced executions. 
Disclosure: Linden Publishing provided us with a copy of this book for our honest review. 
---
Other wood carving books
First Projects. A Pictorial Introduction to Woodcarving for Woodcarvers (Mike Green and Mike Altman)
An oldie (1996) but a goodie for brand new carvers. You can probably only get it on Ebay. 
We like the fact that it provides a good overview on general tools, sharpening, and basic wood carving cuts.
It also provides a step-by-step tutorial for carving a simple cowboy boot. 
---
Head Proportions Made Simple (Ivan Whillock)
We would call this an oversized booklet as it features photocopied pages stapled together. 
Each page features a very large hand drawing and a sentence or two. 
It is very simplistic but if you need steps broken down for you to get head proportions correctly, you will like it.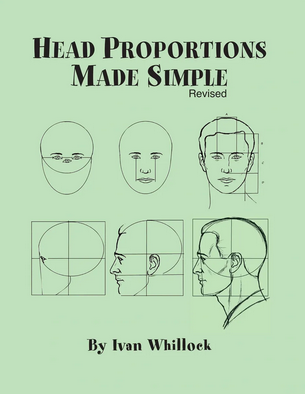 Want more reviews of wood carving books?  
Give us a shout here.
---
---
Get 50 Wood Carving & Painting Tips  
FREE when you sign up for Covered in Chips, our newsletter
Your information is 100% private and is never shared. Unsubscribe anytime. See our  Privacy Policy .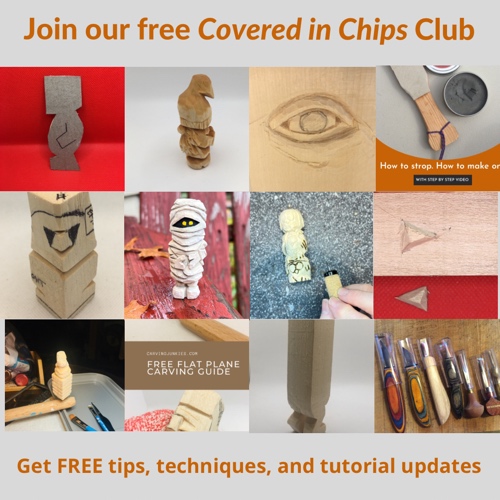 Home   | Privacy Policy  | Terms of Use  | Contact| Sitemap