Wood carving caricatures successfully
Tutorials, tips, and techniques to help you.
Wood carving caricatures is a skill unto itself in the carving world.
Once you start, the possibilities are endless for creating caricatures that can delight, amuse, and tell a story without words. 
What are wood carving caricatures? 
In a word, caricatures are exaggerations (according to the Merriam Webster dictionary).
In his book Caricature Carving From Head to Toe, author and carver Dave Stetson further defines caricatures as exaggerated realism (versus distorted cartoons).
We offer a slightly different definition: If wood carvings make you grin from ear to ear, chances are you are looking at caricatures!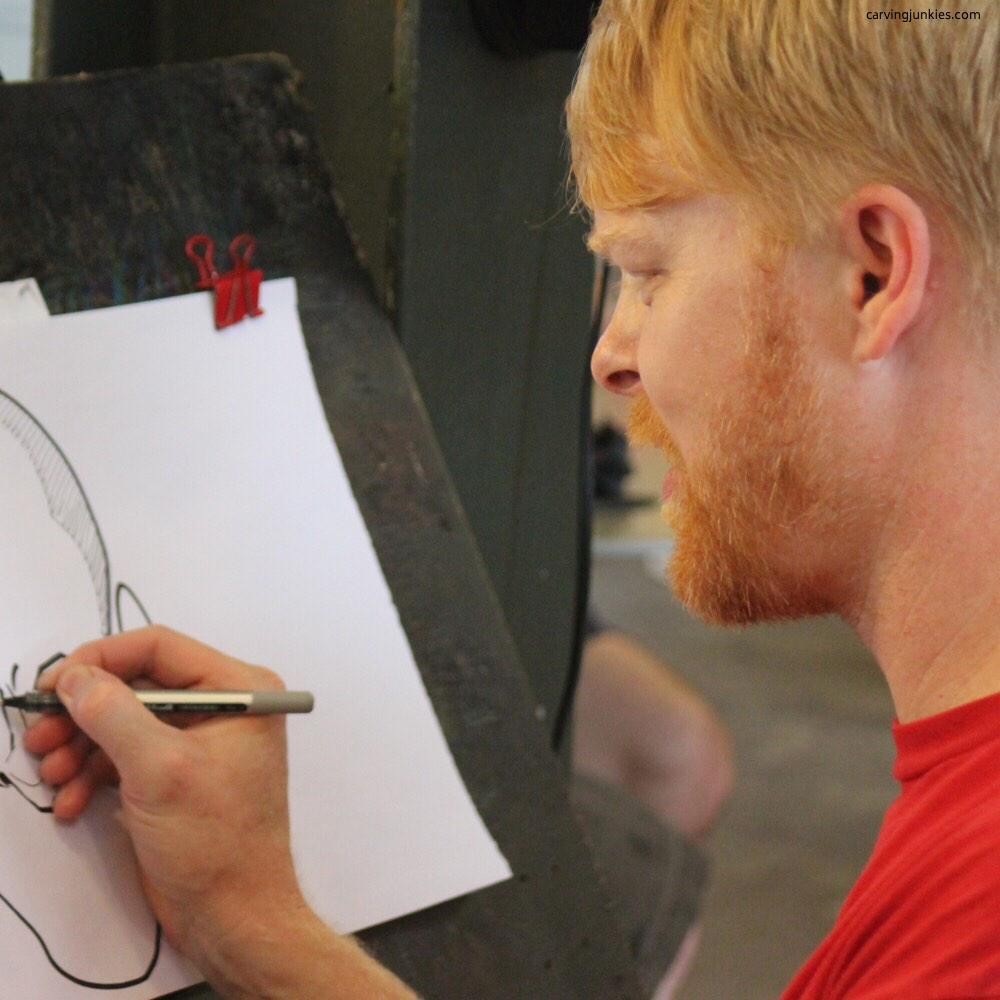 Wood carving caricatures (human)
There are (at least) two schools of thought when it comes to carving human wood carving caricatures. Some caricaturists are sticklers for getting anatomical details right while others are more "loosey goosey."
For example, Stetson is a stickler for realism, and he has a lot of rules he feels carvers should follow.
Then there are carvers who deliberately incorporate cartoon-like characteristics into their caricatures.
We took a carving class with caricaturist Chris Hammack who readily admits that he is definitely not a stickler for anatomical correctness.

At the end of the day, there is no right or wrong answer.  Wood carving caricatures should  be about having fun... and that's what we want you to experience. 
How can you build your skills for wood carving caricatures?
We offer several free tutorials to help you develop your skills for wood carving caricatures, including: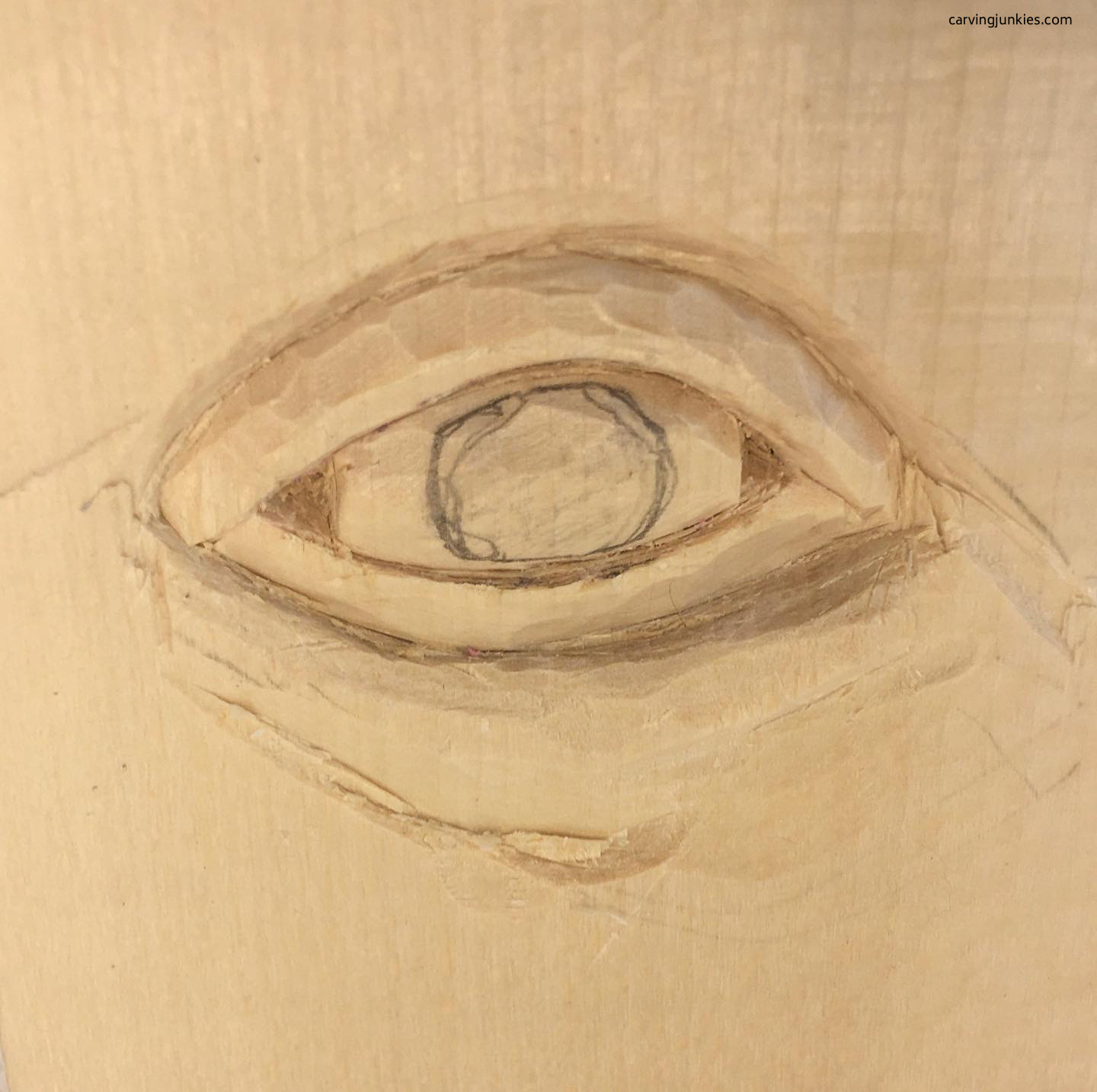 Learn to carve caricature eyes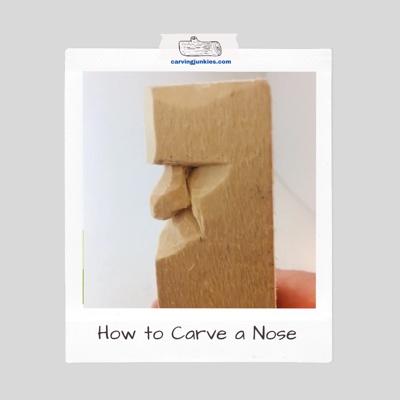 One of our many caricature carving tutorials
What about animal wood carving caricatures? 
It can be a lot of fun to come up with designs for animals that feature exaggerated features. You can take a lot of creative license with animals, too.
Check out our:
Expression is everything with wood carving caricatures
When you are wood carving caricatures, you want to capture expression in the wood. Some examples include:
A look of surprise or shock
A sneer
Laughter
Sheepishnes
Anger or frustration
Sadness or joy
Disgust
Lust
Fear
Awe
Love
Confusion
Determination
Concentration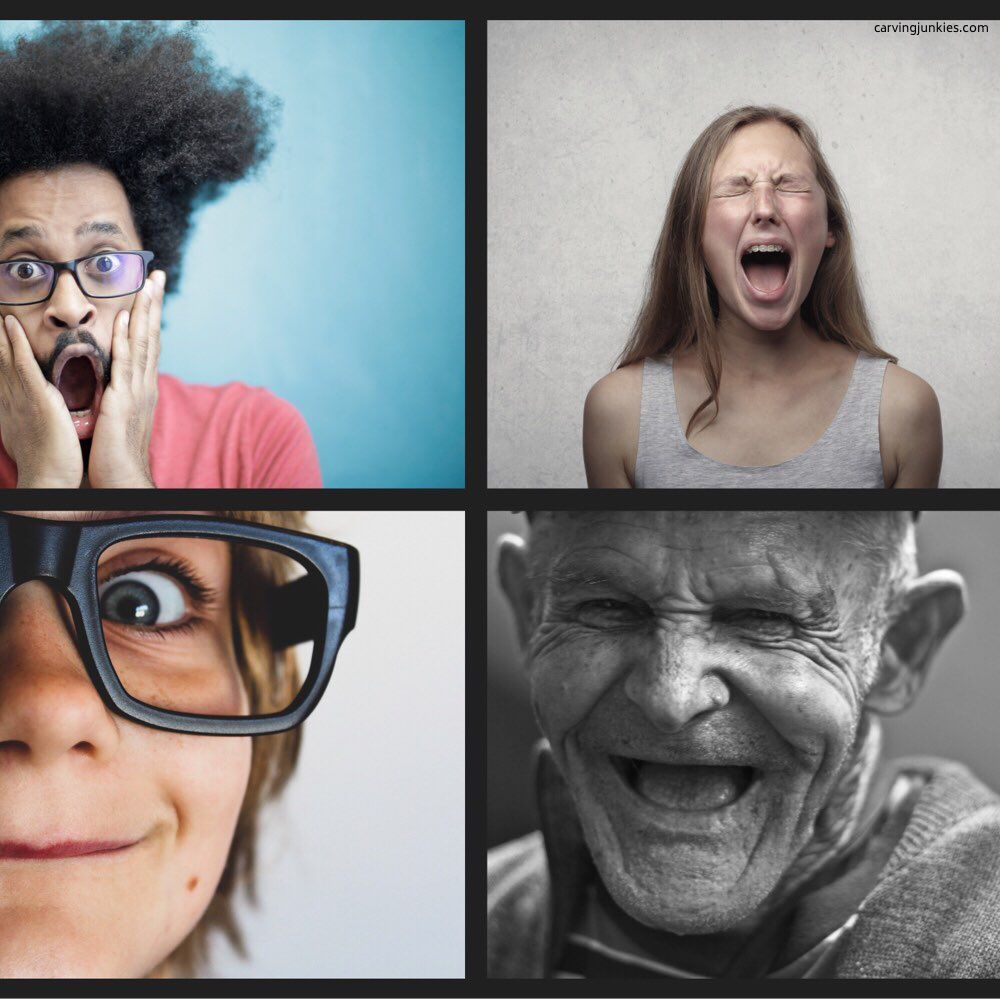 Stock photo houses are great for inspiration
You can use these words as keywords to search for images at stock photo houses.  The photos you find can often spur wonderful ideas for wood carving caricatures. 
You may also want to keep a file or notebook with photos of expressions that you want to mimic. Use them as a guide as you carve. 
Tip: Make your ears and nose twice as big as you want them.
You can always make them smaller, but never bigger.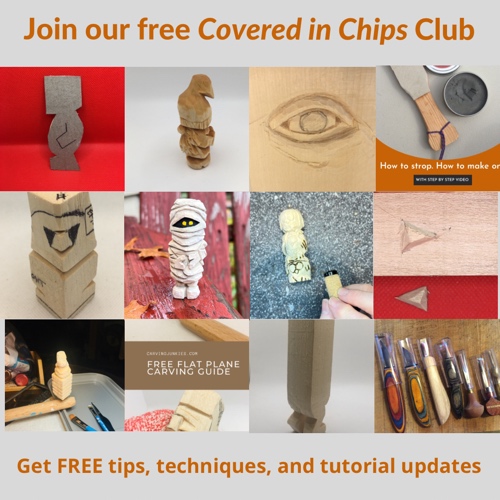 Get our Covered in Chips newsletter
Details make a difference with wood carving caricatures
You can turn a good caricature into a great caricature by adding a few little details to enhance your carving, or to tell a story.  
For example, our whittle a bear wood carving includes a honeypot and honeybee, which add some whimsey.  
Picture books from the Caricature Carvers of America and others are a great resource for ideas and inspiration.  
Other details that are important to get right when you are wood carving caricatures include folds in clothes and wrinkles in skin.  A great reference book to keep on hand when wood carving caricatures is Dynamic Wrinkles and Drapery by Bruce Hogarth (affiliate link below).
One of many drawings featured
Don't rely on memory when wood carving caricatures.  
Study your subject and use pictures as a reference. 
Try to incorporate movement with wood carving caricatures
If you can add a little movement when wood carving caricatures, your pieces will be more interesting.
Adding movement is something we're working on too!  For example, in our Yipie Hippie miniature wood caricature carving tutorial, we turned our guy's head a bit.  
In our comical cigar-smoking caricature, we changed his posture so it looks like he's leaning back a little. His shoulders are also shrugged.
Other great examples of wood carving caricatures
To see some really great examples of movement, check out The Caricature Carver's of America book Caricatures in Motion. You can read our review of it here.
It provides wonderful inspiration for incorporating motion into your caricatures.
Great for ideas (not a how-to book)
All-in-one... or not with wood carving caricatures?
When wood carving caricatures, you do not have to feel limited by incorporating everything into one block of wood.  
You can carve body parts separately (like the head, arms, or hands) and attach them later.  This allows you to easily turn the pieces of your carving.   You will need to carve holes in the neck, if you are attaching a head, and in the wrists for hands.
If you want your caricatures to hold something, you can drill a hole and carve the hand around it so you can place an item in the hand.
We cannot speak to this from experience (yet), but we have heard carvers praise videos by Lynn Doughty (who is renowned for his Native American and western-themed wood caricatures). Be sure to check hIs YouTube channel out for wood carving caricatures in separate pieces. 
Some of my favorite knives
I love these very sturdy knives (all Focuser Carving affiliate links).  The general carving knife is very comfortable to use. The chip carving knife is my go-to for clean pyramid cuts and more.  The long whittling knife is great for roughing out wood. These knives are terrific for beginners, reasonably priced, and readily available.  A lot of popular wood carvers on Instagram now use them.  
Carving is only half of your wood carving caricatures
Sometimes average caricatures can be transformed into awesome carvings with unique painting details and finishing.  
Read our informative article about painting a  wood carving to learn some useful tips and techniques.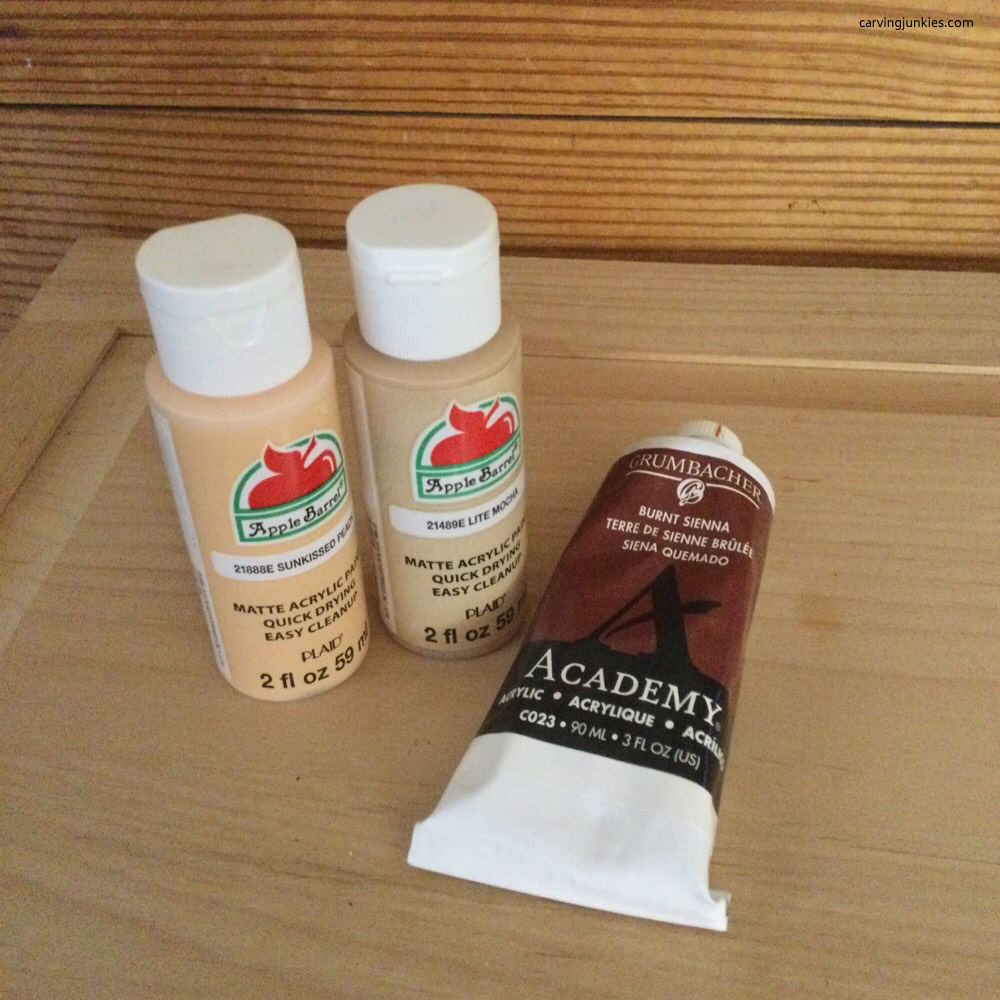 Learn how to paint your caricatures
Other resources for wood carving caricatures
Another way to learn how to create caricatures is by trying to  mimic other caricaturists. Over time, you can work on developing a style that is unique to you. 

Some renowned caricaturists sell roughouts of their carvings that you can use to practice your skills when wood carving caricatures. Here are some links to get roughouts from: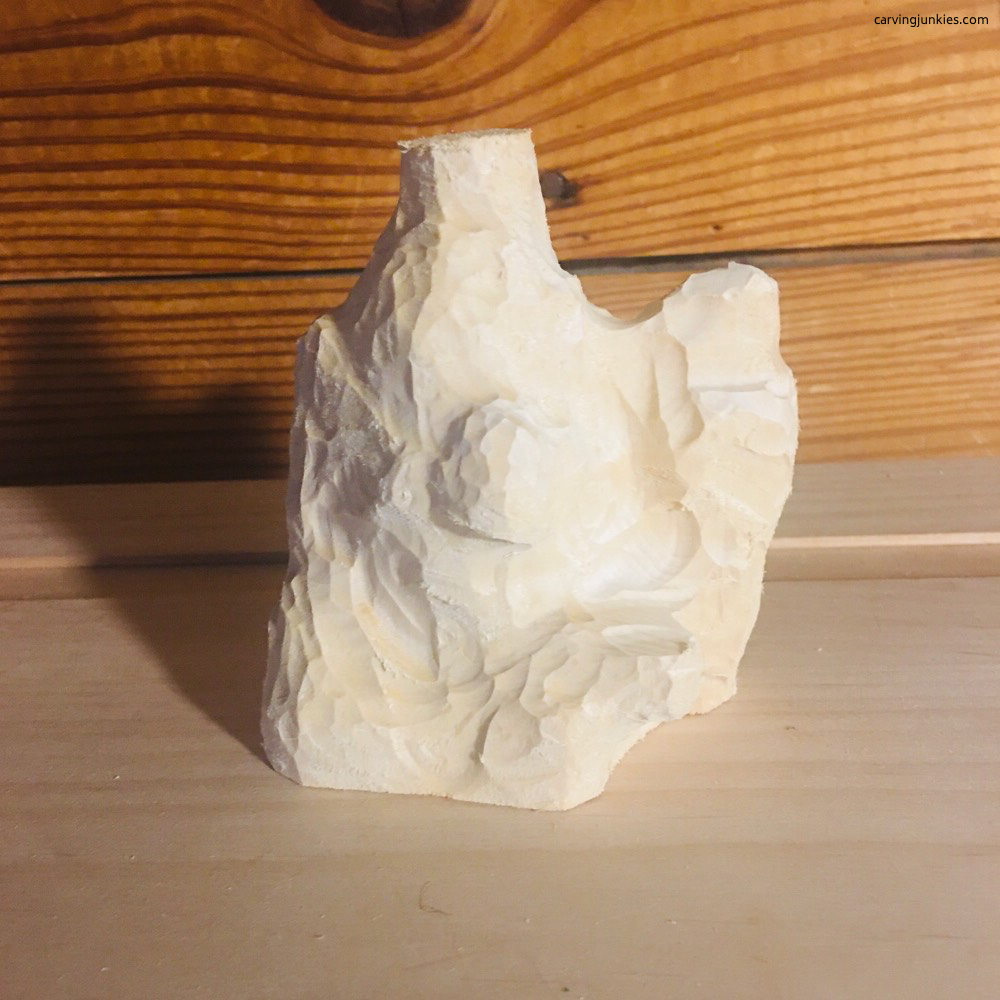 Roughout purchased from Chris Hammack
Take some classes on wood carving caricatures
You may want to consider taking a few classes with wood carving caricaturists that you admire.
You can start with the links provided above to see what classes they currently offer. 
Refer to books about wood carving caricatures
Read our article about wood carving books to learn about books that are great to include in your library for instruction and inspiration.  We provide honest reviews of 16 books that we've purchased (hint: not all are worth buying).
Our reviews include Stetson's informative book Caricature Carving from Head to Toe (contains affiliate link).
Wood carving caricatures summary
Wood carving caricatures can be fun and creative.
Look at pictures of human faces to help you when carving caricatures.
Caricatures of animals can also be fun to carve.
Learn from other carvers, but develop a style that is unique to you.
---
---
Get 50 Wood Carving & Painting Tips  
FREE when you sign up for Covered in Chips, our newsletter
Your information is 100% private and is never shared. Unsubscribe anytime. See our  Privacy Policy .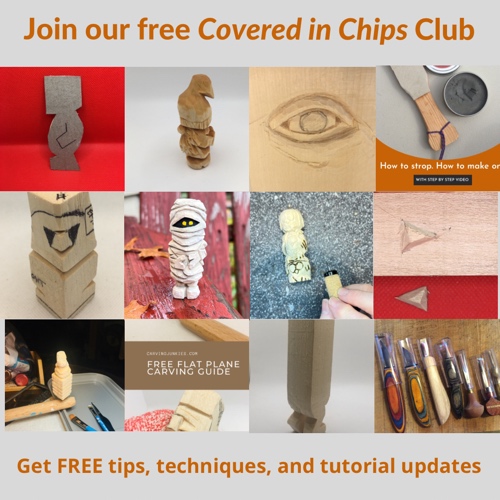 Home   | Privacy Policy  | Terms of Use  | Contact| Sitemap